How Much Does College Really Cost?
Paying for College | 7 minute read
It can be hard to know how much college will actually cost you. We've broken it all down in this guide to simplify all the financial aid options.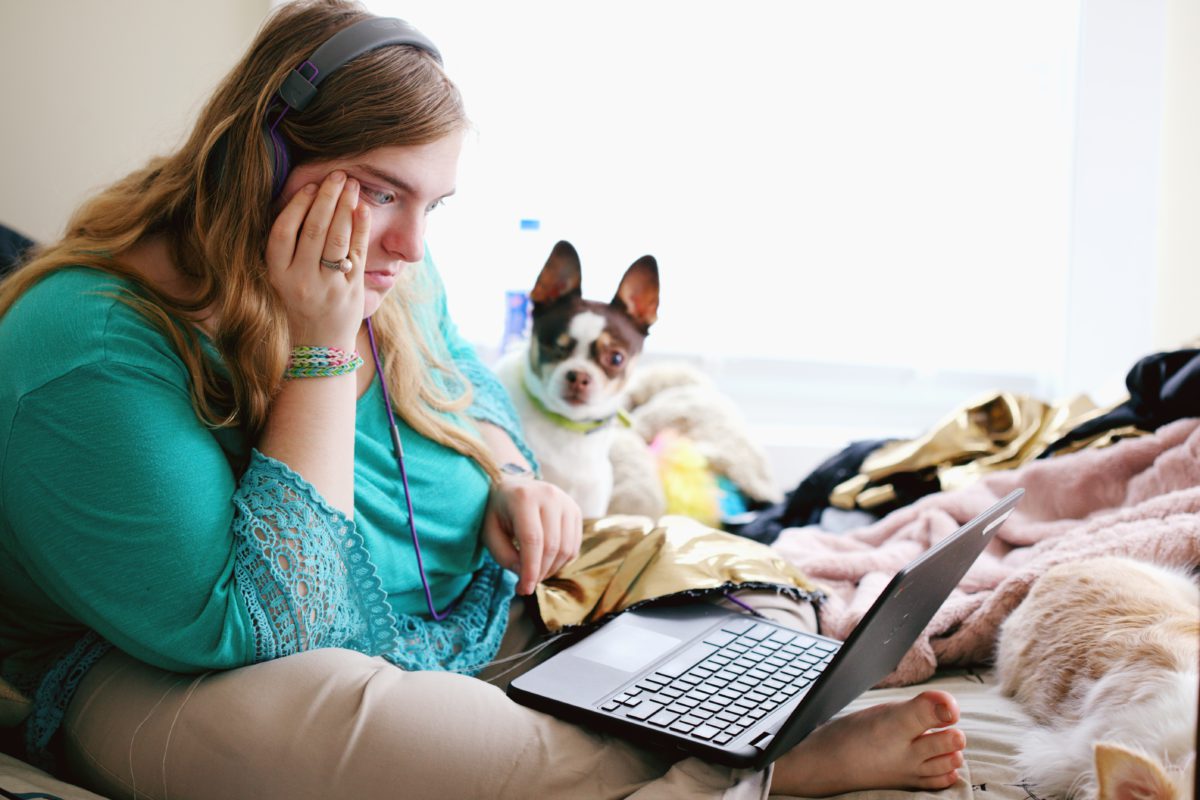 It can be hard to know how much college will actually cost you. We've broken it all down in this guide to simplify all the financial aid options.
You're Serious About Going to College. That's Awesome.
Whether it's a two-year school close to home, a four-year university across the country or something in between, higher education is the best investment you and your family can make in your future.
But it's not a simple investment. Paying for college is a big and complex process that changes every year. If you're the first in your family to attend college, it can be hard to know where to start. Even if your parents or siblings did go to college, your financial aid process may be extremely different than it was for them.
At Scholarship America, we have more than 60 years of experience answering financial aid questions. We believe in students and making college possible. That's why we put together this guide—between your hard work and our expertise, we can work together to ensure you know the ins and outs of the financial aid process.
So How Much Does College Really Cost?
In many ways, it's never been easier to figure out how much a college education will cost. U.S. law requires most schools to feature a Net Price Calculator on its website. The idea is simple: if you're interested in a school, search its website for "Net Price Calculator," or use the official U.S. Government Price Calculator website to find the link. Then, just plug in some information about where you live and what your family can pay, and get an estimate of what it will cost you to attend the school.
Use the Net Price Calculator tool on the school's website to find an estimated cost of attendance.
This calculation is required to include the likely cost of tuition and student fees, but that's not all. To meet federal standards, it's also required to estimate the cost of:
Room and board
Books and supplies
Transportation expenses
The calculator will also estimate the percentage of students from similar financial backgrounds that usually earn grants
In general, the net price calculator is a helpful tool that brings some much-needed transparency to the process of figuring out how to pay for college.
That said, it's not quite as simple as plugging in the numbers, getting your cost calculation and budgeting the exact amount shown. Net price estimates are just that—estimates—and they're subject to change before and during your time on campus. To ensure that you're not caught off guard, here are three questions for you and your family to pay attention to:
1. What's the difference between cost of attendance and net price?
A college's Net Price Calculator is required to provide two cost numbers that are related, but different in important ways: the estimated cost of attendance and the estimated net price of attendance. What's the difference? The cost of attendance is the total amount of money that an average student has to pay to go to the school, including tuition, fees and lots of other expenses. The net price takes that total, and then subtracts the grants and scholarships you're likely to earn—giving you the total amount of money that you will have to pay.
The cost of attendance is the total amount of money that an average student has to pay to go to school. The net price is the total amount of money that you will have to pay after grants and scholarships.
When it comes to the calculator, that net price is the "bottom line." But it's important to take note of the cost of attendance as well. After all, the calculator is just making its best guess when it comes to figuring grant and scholarship aid. If, for some reason, you get more or less grant money than the estimate indicates, you can still look at the cost of attendance to create a baseline for your budget.
2. What can change the cost of attendance?
There are plenty of things that you and your family might do over the course of a year that will change your calculation.
Where You Live
At most colleges, especially public universities, tuition is significantly lower for in-state residents than for those coming from out of state. A family move can have a big impact on your estimate; so can becoming a resident of your school's state while you're in college.
Your Major
The Net Price Calculator bases its book and supply cost estimates on averages. If you're in a department with significant lab fees, studio costs or equipment requirements— whether it's biomedical engineering or tuba performance—your cost is likely to be higher than the estimate.
Your Living and Commuting Situation
Room, board and transportation estimates come from either institutional or national survey data, and may not reflect every student's actual experience.
3. What's not included in the calculation?
One final thing to consider as you work your way through net price calculation are all the things that the calculator doesn't include. Most calculators don't take into account the household stuff you'll need in a dorm room or an apartment—from laundry money to new work shoes to that present for your roommate's birthday. As you budget, don't forget about these necessary but easy-to-miss day-to-day costs.
You'll also have to think about the money that goes into travel and activities. While net price calculators may estimate supply costs for some of your extracurriculars, they're unlikely to catch everything you need for the things you love to do. As for transportation estimates, they may not take into account the money you spend to get to your job—or the cost of flying or driving back home during breaks. Most of these items won't add a ton to your college costs, but, if you don't budget for them, they can add up!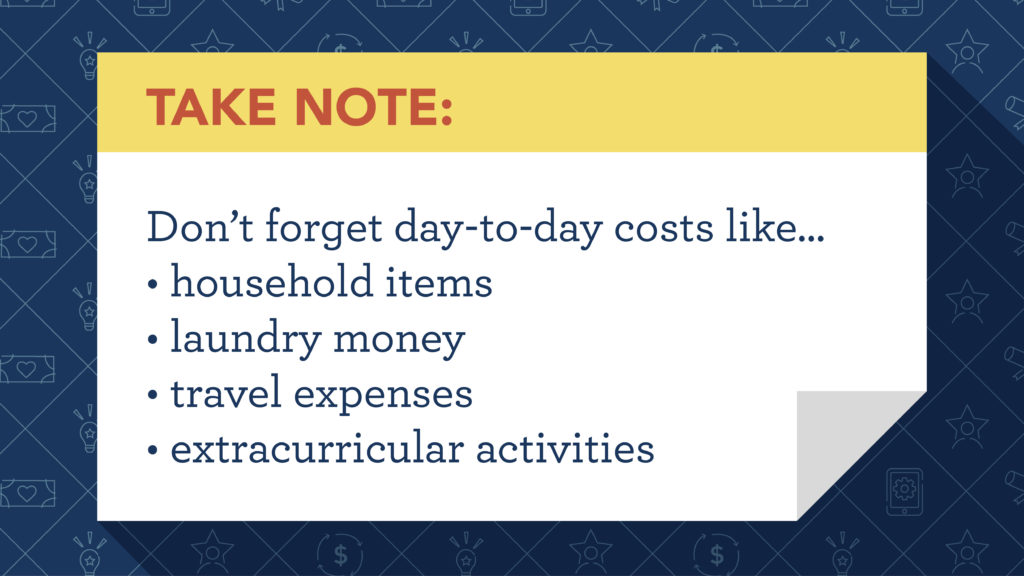 Five More Tools to Bookmark
The SavingForCollege.com calculator starts by asking how old you are, and from that alone can tell you how much an average education will cost when you're college age. If you're already there, you can customize its cost-of-attendance estimate by entering your potential colleges, using built-in College Board estimates and even adding in your own financial information. The strength of this tool lies in its flexibility: if you know a lot about your school choice and financial information, you can get great details, and if you're new to the whole experience, you can use the built-in averages to learn where you stand.
The College Board's BigFuture site hosts a lot of excellent tools, and one of the most valuable is their Expected Family Contribution (EFC) Calculator. Based on your income, assets and other current financial data, the EFC tells colleges how much your family can be expected to pay for tuition and fees. You never want this number to be a surprise—fortunately, the BigFuture EFC calculator walks you through the process, using the same questions as the FAFSA so you can get a very good estimate of your family's EFC well before you need it.
Most students tend to shop around among a few college options, and cost is obviously a big part of the decision-making process. But as you learn more about prices and aid packages at various schools, it can get tough to make apples-to-apples comparisons. That's where BigFuture's Financial Aid Comparison Calculator comes in. Using this tool, you can enter cost-of-attendance and financial aid information from up to four colleges, then compare them using several criteria.
Once you're in college, good money management is both crucial and difficult. The budgeting tool from Mapping Your Future can help ensure that the necessary-but-boring expenses like savings, medical care and rent don't lose out to video games, concert tickets and late-night Postmates orders.
Finally, no matter how good a financial aid and scholarship package may be, student loans are still a fact of life for three of every four college graduates. To help keep them under control—even while they're still active—check out the Loan Payment Calculators offered by FinAid. The basic loan calculator comes with a wealth of information so you don't accidentally miscalculate anything. If your loans qualify for any special terms, you can dig deeper into those costs as well.
Help Pay for College with Scholarships
Every bit of money counts – big or small – and scholarships can help you minimize college debt. Explore our scholarship opportunities that were made for you.