Why Trade, Vocational and Technical School Scholarship Programs Are Crucial
By Carissa Chang Cress
Finding a job isn't always easy. Finding a job without the right credentials is even harder. This can especially be true for employees in a trade or technical field, where having a specific set of skills to do a job is required.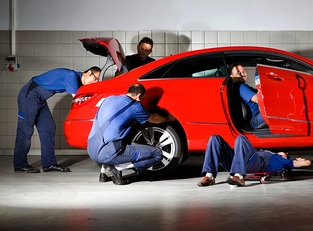 By combining college classrooms and hands-on training, America's trade, vocational and technical schools help bridge the gap between job seekers and the skills they need. And because trade programs are career-focused, students have a unique advantage in learning skills that will directly impact their job prospects.
That's why trade-related scholarship programs remain just as vital today as they've ever been. In an increasingly competitive and educated workforce, enabling vocational students' education now means enabling greater contributions to their – and our – future.
Postsecondary education is crucial. Whether pursuing a certificate or a four-year degree, the payoff for education beyond high school is substantial. In the College Board's latest "Education Pays" report, bachelor's degree holders earned $21,100 more than workers with just a high school degree. Over time, the financial return on that degree compounds: The Georgetown Center on Education and Workforce reported that college graduates make nearly a million dollars more in earnings than those with a high school diploma alone. The reward isn't strictly financial, either: The College Board found that not only do adults with higher levels of education earn more, but they're also more likely to be employed, be active citizens and live a healthier lifestyle.
Skilled labor is imperative. Trade-specific jobs may be changing, but that doesn't mean they're disappearing. Today, simpler, repetitive tasks are being done by machines, but those tasks now require a skilled worker to manage their automation. As just one example, the U.S. Bureau of Labor Statistics estimates a 24 percent employment increase from 2012 to 2022 for wind turbine technicians – much faster than average job growth, with excellent job prospects for qualified candidates. As equipment becomes more specialized and management becomes more complex, so will the jobs – and the needed training for those jobs.
Student loan debt and default rates continue to rise. Nationwide, students face mounting student loan debt, especially as they try to find jobs after graduation. In 2012, 71 percent of students that graduated from four-year colleges had student loan debt. Of that 71 percent, a whopping 88 percent of students enrolled at for-profit colleges carried student loan debt and borrowed an average of $39,950.
These high levels of debt have also meant an increasing number of students who default on their loans. The Institute for College Access & Success found that more than 600,000 federal student loan borrowers who entered repayment in 2010 defaulted on their loans by 2012. That's more than a third higher from just three years prior, when nearly 400,000 students defaulted in 2009. With U.S. student loan debt now topping $1 trillion, alternative ways to pay for school are imperative.
Trade, vocational and technical scholarships can help tackle all of these issues. Trade, vocational and technical programs are just as diverse as the students who enroll in them. The school may be public, private or for-profit; the program may be four years, two years or less; and the outcome may earn a student a diploma, license or certificate. From medical assistants to hair stylists, students may be seeking a postsecondary education outside of a traditional four-year university.
By supporting trade-related scholarship programs, you help give students from all fields a chance to pursue higher education, meet skilled labor demand and reduce their student loan debt. And by supporting vocational scholarships, you're giving students a leg up in their aspirations – and contributing to the vitality of our communities.