Meet the 2018 Dream Award Recipients: Miguel Aguirre
By Claire Berge Schmidt
By Joan Cronson
While Miguel Aguirre was growing up in Rio Bravo in the northeastern region of Mexico, his family, which included four children, often struggled to make ends meet. At times, there was stress and tension in the household—but his parents dreamed of a better life for their children. When Miguel was 10, his mother immigrated to Texas with Miguel and his three sisters while his father stayed in Mexico to work and help support the family.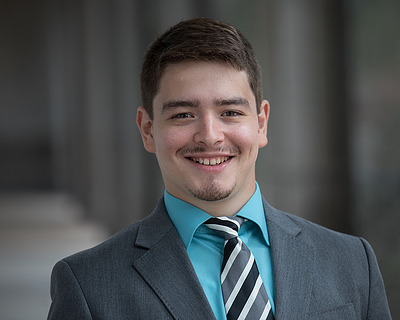 "My parents made many sacrifices to help us succeed," said Miguel. "My father studied agriculture in Mexico but does not have a college degree. My parents worked hard to help support us. They believed that education could help us have a better life and wanted us to focus on our studies."
Miguel's transition to the United States was not easy. He had to adjust to a new culture and learn the language. With his father in Mexico, they also had to deal with currency exchange issues. They initially lived in Hutto, Texas, part of the Austin metropolitan area. As a fourth grader, Miguel struggled to learn English; being an undocumented, small child from a low-income family, he experienced bullying from other kids. After a year, his family moved to Donna, Texas, an agricultural area in the Rio Grande Valley.
By fifth grade, Miguel's language skills had improved to the point where he was able to pass the standardized tests in English, Math, and Science. By middle school, his aptitude for science and math began to shine. He also did well in his classes in English and History. In eighth grade at IDEA College Preparatory, he was studying Algebra, and his teacher let him work ahead independently on assignments. He excelled in the high school's International Baccalaureate (IB) Program and took higher-level math classes.
Miguel participated in band and orchestra, became a varsity soccer player and earned recognition as a National Honor Society student. He also had the opportunity to participate in field trips to visit colleges in California and Washington, DC. Despite his strong academic record and well-rounded activities, as a Deferred Action for Childhood Arrivals (DACA) recipient, it was hard to find scholarships or financial aid.
Since he was young, Miguel always dreamed of doing something different from the jobs he saw around him such as being a teacher or a healthcare worker.
"As a child in Mexico, I always loved spending time at the ocean, which was less than two hours away," said Miguel. "I was fascinated by marine life and wanted to be a marine biologist. I want to help alleviate some of the damage we have incurred on this planet. I would like to study coral habitat restoration, as nearly one-third of marine fish specifies live among the reefs. The reefs provide a barrier for coastal cities and I want future generations to be able to witness their beauty."
Since getting into the marine science field is extremely difficult and often requires students to gain experience by serving as unpaid interns, it creates a barrier for low-income students like Miguel. He hopes to one day start his own nonprofit to focus on marine/coastal restoration and opportunities for students of low-income and diverse backgrounds.
Despite its distance from the ocean, he chose to attend Wabash College, an all-male Liberal Arts school in Crawfordsville, Indiana. They offered him the opportunity to attend a free summer program before his first year of college to experience the college's culture. Their offer also included a free college application and an internship the following summer.
"As a first-generation, full-time college student, it was a tough transition," said Miguel. "I felt pressure to succeed as my parents sacrificed for me to attend school in the U.S.  I quickly realized I needed to establish a regular schedule for homework to improve my study habits. I initially wanted to become an Environmental Engineer. After I took Chemistry during my freshman year, I realized I didn't really enjoy it and had more interest and an aptitude for Biology — so I changed my major."
During the first two years of college, he also dealt with helping his family deal with emotional, economic and personal struggles after he left his home in Texas to go to college. He had weekly meetings with a college counselor to help him work through the stress of balancing school, challenging courses, and issues relating to his family accepting his sexuality. 
Miguel was thankful to learn about the Scholarship America Dream Award through a Financial Aid counselor at Wabash College.
"I struggled and worried every year about how I was going to pay for tuition, as a four-year college is expensive," he said. "Each summer, I had to work one or two jobs to pay for school. Being selected for the Dream Award in my junior year gave me great peace of mind that I did not need to take out a loan to attain my dream to earn a degree. It allowed me to focus on school and keep up with my challenging courses, rather than looking for work to be able to stay in school."
In college, he served as chairperson for the Environmental Concerns Committee. They hosted activities for students including movies about conservation, and Miguel posted stories and educational pieces in the school's print and online newspaper to help students be earth-friendly. He also was involved in Circle K and College Mentors for Kids.
As a DACA student, he could not participate in field trips abroad to study wild corals in Belize and his internship options were limited to the United States. Nevertheless, his most meaningful learning experience has been completing two internships conducting conservation work with the Doris Duke Conservation Scholars at the University of California, Santa Cruz, and in his hometown. His first internship included an intensive summer field science and leadership course. The subsequent internship involved artificial intelligence/conservation monitoring with their partners, Conservation Metrics. 
"I hope to one day have a path to U.S citizenship and become involved in ecological restoration in Mexico, Australia, and islands near coral reefs," said Miguel.
Miguel hopes to encourage others to reach for their dreams.
"Accept where you come from but don't let stereotypes define or limit you," he advised.