Meet the 2018 Dream Award Recipients: Christian E. Urrea
By Claire Berge Schmidt
By Joan Cronson
Growing up in a single-parent family in Guadalajara, Mexico, Christian Urrea had no idea that immigration to the United States with his mother when he was eight years old was just the start of his long journey to a better life.
As an undocumented minor, Christian faced language, cultural and financial struggles. Though he'd studied English in school in Mexico, he remembers feeling overwhelmed in his first all-English class in elementary school in Aurora, Ilinois, a suburb of Chicago. Every night after school, he read books and sang along to pop songs to improve his fluency.
"Listening to music is still one of my favorite hobbies and helped me improve my diction," said Christian. "After two years, I was proud to advance from English as a Second Language (ESL) classes to English honor classes."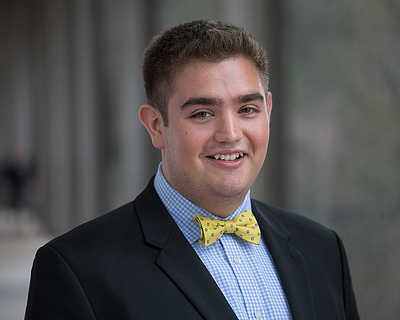 His love of music and involvement in community service enabled him to win tickets to concerts. He was able to meet musicians and celebrities including Justin Bieber, Oprah Winfrey and Usher, as well as Fifth Harmony (from the television show The X Factor), singer/songwriter Austin Mahone and The Voice competitor Christina Grimme.
"Meeting these celebrities got me interested in studying public relations to become a celebrity publicist. "I realized that when you meet them one-on-one, they are more like us, and not the public persona you see on television or in social media."
At 15 years old, Christian had a bright future planned. But, that year, he faced a major family setback. His mother started showing symptoms of progressive dementia.
"My mother's diagnosis was heartbreaking," said Christian. "She began to lose her personality and physical abilities. We had no access to healthcare, and being extremely poor, her condition quickly deteriorated." 
Christian found a nonprofit volunteer clinic in Chicago to handle his mother's basic check-ups but it did not cover everything she needed. He juggled being a student and caregiver, and eventually worked up to three jobs to help his family. By his senior year of high school, the expected financial burden of college almost discouraged him from applying.  
"Fortunately, my mother always encouraged me to not give up on my dream to attend college because she said it would be the only thing I would have for certain the rest of my life," said Christian.  
In spite of his mother's encouragement, Christian's journey to college was an uphill battle. Being a first-generation student from a low-income, single-parent family, he often felt college was out of reach and intimidating. With his mother's illness, he had no parent to help with the lengthy application process. In addition, as a Deferred Action for Childhood Arrivals (DACA) recipient, it was hard to get scholarships or financial aid, and he could not access federal aid.
Nevertheless, Christian stayed focused on his academics and was active in a variety of community service activities including the Kiwanis Club and the Hispanic Heritage Board. He graduated from high school with high honors. And his hard work paid off:  he received an academic excellence, service-based, full-ride scholarship in the Honors Program at Waubonsee Community College in the suburbs of Chicago.
During his first semester, his mother's dementia advanced to where she needed 24/7 care. He then made the hardest choice of his life. With the help of his relatives in Mexico, he arranged to send her back to Mexico to live in a care facility. 
"I hugged her and told her I would see her later," said Christian. "She boarded the plane and I lost it. Though she was not fully aware of what was happening, I realized it was the last hug I would ever be able to give her. DACA recipients cannot leave the United States or risk losing their protection from deportation. What gives me peace-of-mind is that my mother always loved how much I was dedicated to my studies."
After Christian earned his Associate of Arts degree, he transferred to the University of Houston to study Communications & Public Relations. He chose Houston because it ranks among the top three colleges in the nation for student diversity. To gain related experience, Christian volunteered for the Homecoming Committee working on social media. He has been a mentee in the University of Houston Ignite Mentorship program and will serve as a mentor next semester. Some of his favorite community service experiences have been with United We Dream, the Kiwanis Club, and the Undocumented Youth Empowerment Alliance, which has been supportive of undocumented students.
"I used Google to search for any scholarships that allow undocumented DACA applicants, said Christian. "I was thrilled to find I was eligible for the Scholarship America Dream Award and applied. I felt so fortunate to be chosen for the scholarship. It has been a blessing and helped change my life. I never thought I would be able to afford tuition and room and board to attend a major university and not have to work multiple jobs."
"I want to help give minority groups a voice and help pass The Dream Act, which provides a pathway to citizenship," said Christian. "I want to remove the stigma attached to immigrants so people see our great potential. Working with ACLU attorneys doing pro-bono work to help DACA students has inspired my interest to consider attending law school after I get my Bachelor of Arts degree."
"My undergraduate degree in Communications and Public Relations, combined with studying immigration law, has the potential to shine the light on issues that have been affecting our societies for generations," said Christian.