Meet Isaiah French: 2019 Dollars for Scholars Student Volunteer of the Year
By Matt Konrad
By Matt Konrad
As a kid, Isaiah French didn't always feel lucky. He grew up in an affluent Boston suburb, but divorce and health struggles took their toll on his family, and they didn't have much money. "I grew up getting clothes from Walmart and getting hand-me-downs, while people in my school were always wearing new name brand items" he recalled.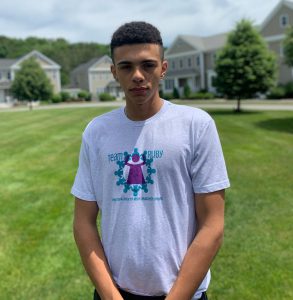 But a trip to the city as a young man changed everything. Walking down a Boston street, Isaiah encountered a man wearing a trash bag as his only protection against the harsh wind – and he realized how lucky he truly was by comparison. "Being around people that had more than I had blocked my vision to the world around me, but that one man changed my whole perspective," Isaiah said. "I knew I had to do something."
What he did, at first, was to coordinate the gathering of a minivan full of clothing to hand out to those in need. That effort grew into Project Warm-Up, a year-round support organization with over seventy volunteers working to get food, clothes and supplies to the city's homeless. For his work with Project Warm-Up and his dedication to both school and community, we are proud to recognize Isaiah French as our 2019 Dollars for Scholars Student Volunteer of the Year.
Overcoming the Odds
Isaiah's path to where he is now has been an often-difficult road. He's the youngest of three sons, and his parents divorced when he was very young; his childhood was split between two homes. Isaiah's mom, an occupational therapist, fought a battle with cancer; thankfully, she recovered, but complications from her ongoing fight with lupus have meant she hasn't been able to return to work in her field.
Then, in 2017, Isaiah was dealt another blow: on the way to pick Isaiah up from a friend's house, his father suffered a heart attack that led to a fatal car accident.
"His death has had a profound impact on me," Isaiah said. And, just like the experience he had in Boston, he's working to build something positive out of the tragedy: Isaiah is volunteering with the American Heart Association, educating people on Hands Only CPR and encouraging those he works with to live healthy lifestyles.
Family, Community and a Cause
Despite her illness, Isaiah's mom has been a source of strength and support in the five years since he started Project Warm-Up.
"My mom has been by my side since day one of this project," he said. "When I first told her that I wanted to do something, she helped me get everything I needed and we went to Boston together on the first Warm-Up trip. Since then, she has gone to every single fundraiser and event that we have done and has driven cars full of backpacks into the city while others and myself took the train."
Isaiah's two brothers, Benjamin and Nathaniel, have also been deeply involved with every aspect of the charity; Nathaniel is hoping to expand it to Orono, Maine, where he attends college. And Isaiah has worked tirelessly to involve people of all ages and walks of life in his community. A member of 4-H since he was five years old, Isaiah describes the organization as "a backbone" of his community service life — and a way to find fellow volunteers.
"I have been able to engage 4-H members as young as five and students from my school into service," he said. "My presentations to a variety of nonprofit organizations have led to their hosting collection drives. We have come together for a cause, supporting and engaging each other. My desire to help the homeless, has helped all involved."
In recent months, elders and veterans from the American Legion of Massachusetts and Post 189 have gotten involved as well. Thanks to the varied skills and interests of Project Warm-Up's community volunteers, the organization is able to provide everything from backpacks of supplies to meals to handmade hats, mittens and ponchos – and the homeless aren't the only beneficiaries.
"Having many different perspectives is always an amazing thing. People are always presenting me with new ideas," Isaiah said. "[Because] I live in an affluent area, some of the younger kids have not seen homelessness before, so teaching them about it is as important to me as helping those less fortunate."
Balancing and Building
Throughout high school, Isaiah has had to balance school, sports, work and volunteering – and he plans to continue doing so when he heads to college this fall. He'll be attending Fitchburg State University, about a half-hour from his hometown, and said that being close to home will let him continue working with the people who have helped build Project Warm-Up.
He's also building his support of the homeless into his career plans. Isaiah is looking to study industrial technology with a concentration in architecture. His ultimate goal is to help those struggling in underserved rural areas, by designing and building shelters and infrastructure that can fulfill people's basic needs and help them break out of the cycle of homelessness.
Not surprisingly, family is a big part of his future plans. Isaiah's brother Nathaniel is pursuing a degree in civil engineering and construction management. "My goal is to create a construction company with my brother," Isaiah said. "We have a special bond and balance each other well."
The Learning Continues
Project Warm-Up's motto is "Warming the Homeless from Sole to Soul," and its impact on those in need is matched only by the impact it's had on Isaiah and his fellow volunteers. Isaiah recalled one homeless man that taught him an unexpected lesson.
"I met this guy named 'Lefty' in Boston; he used to sit outside of a train station in his wheelchair," Isaiah said. "He took whatever we gave him, but never kept it all. He would go through the bag and take what he needed, then wheel across the street to a family and give them the rest. The fact that he did not want more than what he needed really stood out to me."
Isaiah said that he hasn't seen Lefty in the last year – but heard that he found an apartment.
The work of balancing school, volunteering and life is never easy, especially when you've faced difficult circumstances and personal tragedy. But, thanks to hard work, dedication, family and community, Volunteer of the Year Isaiah French is doing great things for the homeless, and realizing the benefits.
"Beyond my original desire to help those in need, Project Warm-Up does so much for all involved," he said. "It has had a great impact on me and others in so many ways."