Maine Proud: Meet the 2021 A. Cressy Morrison Scholars
By Matt Konrad
Now in its second year, the A. Cressy Morrison Scholarship is a prestigious, unique and impactful award for students in Dollars for Scholars communities in the state of Maine. Just two statewide recipients are chosen each year, based on their demonstrated ambition and self-drive as evidenced through their goals and achievements in school, community and workplace activities.
The Morrison Scholarship provides its recipients with renewable awards that increase by $1,000 per year, for a total of $10,000 that will help them persist and pursue their educational goals. We are extremely proud to introduce the 2021 A. Cressy Morrison Scholars: Allie Winship and Sabra Scott, who both represent Houlton-Hodgdon Dollars for Scholars.
Turning a Passion Into a Career: Allie Winship
Allison (Allie) Winship, of Hodgdon, Maine, will be enrolling this fall as a freshman at the University of Maine at Augusta, where she'll continue working toward her dream career in veterinary medicine.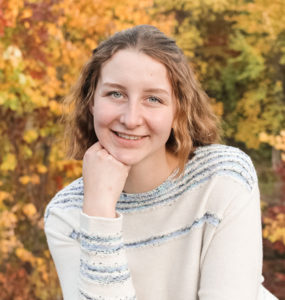 She took the first steps toward that goal early in high school, beginning an internship at her local veterinary clinic as a freshman. That internship turned into a paid job, and she's continued working with animals throughout high school. From a young age, Allie also dreamed of becoming a driver for Carriages of Acadia, providing horse-drawn tours in Acadia National Park.
"Throughout the years, I made sure to continue my work with horses. I also made sure to strive to be an excellent student to make me stand out from the rest of the applicants," she says. "In my journey, I was told that a small-town girl was making a fool out of herself for working so hard at an impossible achievement." It seemed even more unlikely when COVID-19 made the park's opening status uncertain – but Allie was undeterred, and when she turned 18 her persistence paid off and she got the job.
Before she heads off to earn her bachelor's degree in veterinary tech, Allie is relishing a final pre-college summer. "I want to be able to say that I have experienced all my hometown has to offer before the plot of my story changes," she says. That means spending valuable time with friends and family, enjoying a return to normal life and embracing the outdoors before the pressures of college life begin.
Fortunately, those pressures are relieved a bit thanks to the Morrison Scholarship. "A scholarship like this is a dream I thought I'd never see," Allie says. "My ancestors knew not of the importance of college, especially because it was way out of our price range. My sister was the first of my family to attend college. Financially, it was a struggle due to not having the same system of scholarships I have now. With this scholarship, my dreams can become reality."
The Road to Success: Sabra Scott
Sabra Scott of Houlton, Maine will be heading to Bangor's Husson University in the fall, pursuing a concentration in management with an eye toward a future MBA.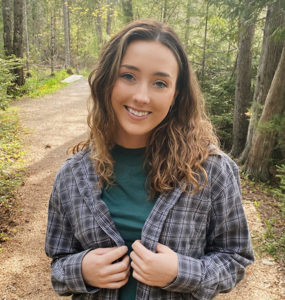 Her focus on a future business career is fitting – Sabra kept busy throughout high school balancing work, classes and activities, without missing a beat. "I am most proud of maintaining a 4.0 GPA throughout high school while working three jobs and playing varsity sports," she says. "I was also able to volunteer at my church, and and different events such as the summer lunch program."
Sabra applied that same determination to her goals outside school – like buying a car she knew she'd be able to rely on after graduation.
"I knew I wanted a semi-new car for college but … I didn't really get serious on saving this money until I realized that no one else was going to or could help me, and it was all up to me," she says. During the summer of 2020, Sabra worked weekdays on an organic farm and bussed tables at a restaurant on the weekends, successfully saving enough to make her down payment and put herself behind the wheel in preparation for college life.
This summer, she's getting a headstart on her business education working at a local bank, and thinking about plans down the road. "I am not sure exactly what I would like to do as a career," she says, "but I believe that running my own business (or businesses) or being part of the management at another business is something I would like to do."
Like Allie, Sabra is thrilled to be heading off to college with ongoing support from the Morrison Scholarship.
"It feels awesome to know that I have support financially," she says. "I am beyond grateful for this scholarship that does not just last one year, but four years."
Both 2021 recipients of the A. Cressy Morrison Scholarship are poised to do great things for themselves, their families and their Maine community. We congratulate Allie and Sabra and wish them all the best in the fall and beyond!