Growing Through Adversity: Barry Griswell Scholar Danielle Sotelo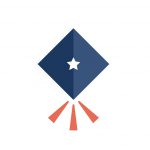 By Pam Carlson
J. Barry Griswell, former Scholarship America Board Chair, faced great odds against achieving success. He grew up in Atlanta, raised in the shadow of physical and mental abuse, and knew education was key in helping him rise above his circumstances. Scholarships helped Barry achieve his education and set him on the path to becoming a Fortune 500 CEO; his whole career, he was dedicated to helping students overcome difficult circumstances in their lives.
The Barry Griswell Scholarship was established in his memory to continue that helping hand, supporting students with the highest level of need who may not be reached by traditional scholarships.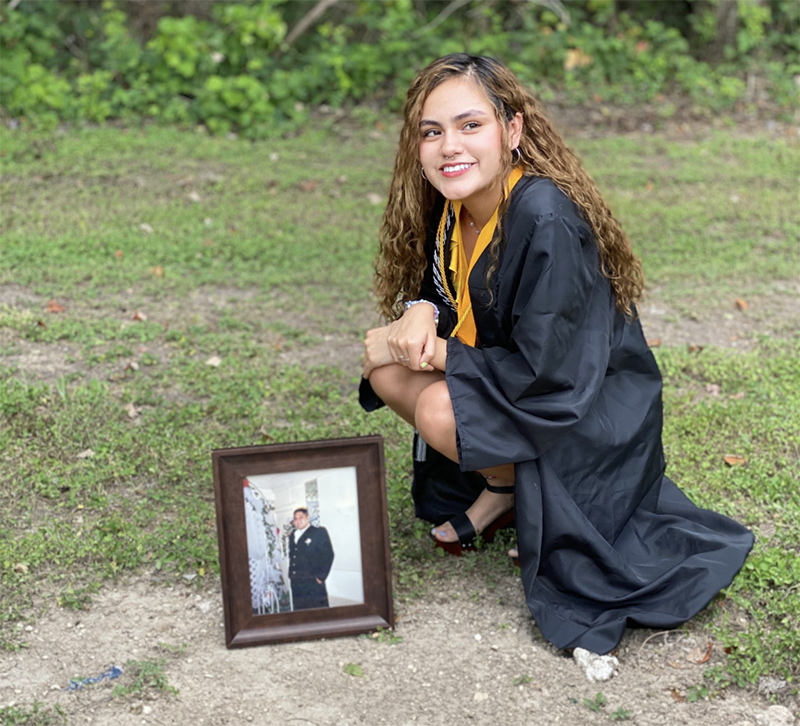 Danielle Sotelo, a neuroscience major at the University of Texas in Austin, is one of three inaugural Barry Griswell Scholarship recipients in 2022. She too has faced adversity and focused on her education to get through.
"A couple of months before my senior year of high school, I lost my father," Danielle said. "I was devasted. My father was my number one supporter and my lifetime best friend." Her father had had a stroke and lost his ability to speak. It completely changed him, and two days later he had another stroke and passed away.
"My dad always wanted me to be valedictorian of my class," Danielle said. "When he died it took so much out of me to go to school and keep up, keep getting good grades. Throughout my life, school was a mechanism that allowed me to healthily refocus my energy and cope with the burdens of a troubled home life. Ultimately, I fulfilled our goal of becoming valedictorian."
Danielle's dad had been an addict, and there was a time when her mother also used drugs. Danielle, her sister and younger brother, grew up with their parents arguing and pushing the children to take sides.  Eventually her parents separated, but her dad visited every week, despite his addictions.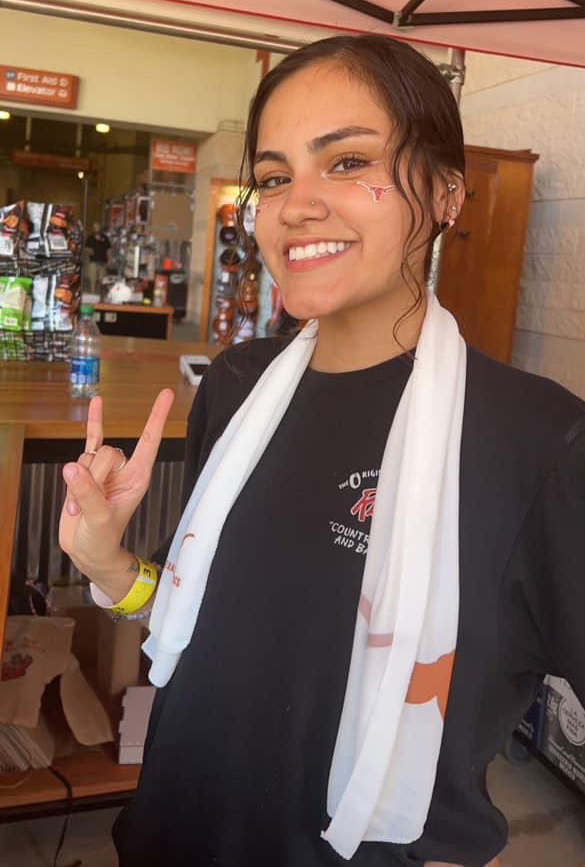 "He was always so smart," Danielle said. "He'd sit down with us and help us with our school work and he talked about wanting me to go to the University of Texas and that's where I am today."
Danielle works hard to help her mother raise her little brother, who is 12 years younger than she is. She decided to stay in San Antonio and commute to Austin for school, spending 25-30 hours per week providing care for her younger brother. In addition, she works 10 hours a week as a restaurant cashier. She stacks classes on the same days to limit the commute and better manage the challenge of juggling school, work and home responsibilities.
"I had to put myself through college by working," Danielle said, "but work can affect academic performance. Receiving this scholarship has really improved my mental health, relieving some of that pressure. I was very surprised to get it. It was just a shock. I had to double check and make sure I read the email correctly!"
Like Barry Griswell, Danielle has seen how getting through adversity has helped her grow.
"Whatever your circumstances, it isn't always going to be that way. You can make a good life for yourself, if you take it one step at a time, and focus on the future," Danielle said.