"Things Do Get Better:" Dream Award Scholar Cassidy Whitehurst
By Matt Konrad
Would you predict a child of addicted parents, who grew up living in hotels and sometimes cars, would grow up wanting to become a criminal justice lawyer?
"What happened in my childhood made me choose my career," said Cassidy Whitehurst, a 2019 Scholarship America Dream Award Scholar from Chesapeake, Virginia. "My dad is an alcoholic who left when I was about six years old. My mom got into an abusive relationship, which led her to turn to heroin to relieve her pain. She became consumed with this lifestyle. We lived in and out of numerous hotels and sometimes cars. School wasn't my priority. I was worried about my home life."
When Cassidy was in middle school, her mom went to jail. "I moved in with my aunt and she gave me a stable home," Cassidy said. "This was a wakeup call for me. I realized I did not want to live in that situation ever again. It made me work harder. My grades increased dramatically, especially when I got to high school. I strived to be the best I could in everything I did."
Cassidy got involved in a service club, Alpha Omega Phi. The club's activities included trash clean up, volunteering at a nursing home, making meals at the Ronald McDonald House, volunteering with the Norfolk Food Bank and helping with the Chesapeake Miss Abilities pageant.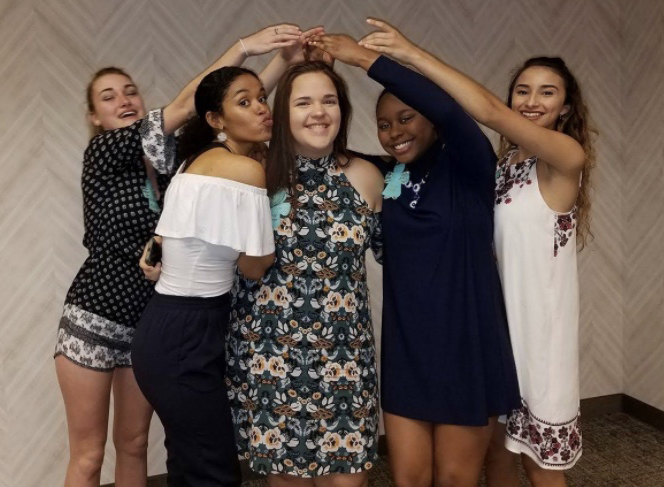 "The Miss Abilities pageant (for women with disabilities) was one of my favorites," Cassidy said. "We were paired with a contestant and helped them throughout the day. It is such a good feeling to participate in community service."
Active with Alpha Omega Phi for three years, Cassidy was the club's recording secretary and then president, and was recognized with the Most Outstanding Member, Leadership and Presidential Awards.
Other high school activities included playing varsity field hockey, where she was captain; serving as treasurer of the Junior Class Council and historian of the Senior Class Council; concertmaster for the Honors Symphony Orchestra and pageant director and sound director for the Miss Indian River Pageant. She also belonged to the National Honor Society.
"In eleventh grade as part of my advanced placement U.S. history class, I had the opportunity to work with several Virginia Native American tribes and help lobby Congress for the passage of the Thomasina E. Jordon bill. This bill gave federal recognition to six Virginia tribes," Cassidy said.
"Chief Jesse Nighthawk, the intertribal peace chief of Virginia, told me about the struggles he's had personally and his tribe has had as Native Americans," she said. "This included mistreatment by the government, alcoholism and family struggles due to oppression. Hearing these sorrowful stories made my heart break. I realized then what I wanted to do with my life. I want to become a civil rights attorney and fight for those who don't have a voice."
After graduating from Indian River High School in Chesapeake in 2018, Cassidy went on to George Mason University. There, she is a sophomore majoring in Government and International Politics with a concentration in law, governance, and philosophy. She is also Speaker Pro Tempore in the 40th Student Senate. "I really wanted the position and thought I would regret it if I didn't go for it," she said of her decision to run for the position. "I like leadership and leading teams."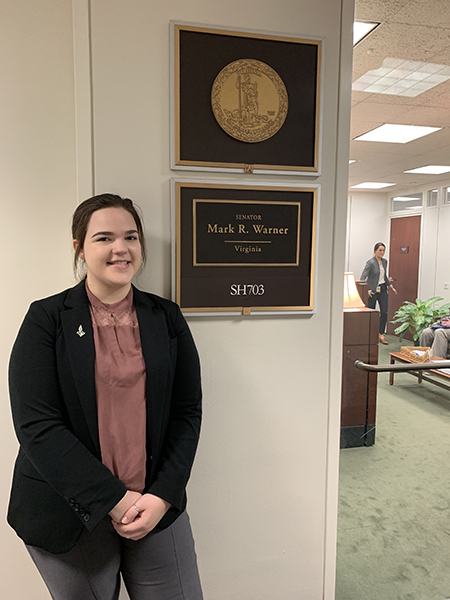 She works in the office of Student Involvement and saw Scholarship America's Dream Award profiled as the scholarship of the week. "My first year of college was paid for through one-time scholarships and I wasn't sure what I would do for the remainder of my schooling. Receiving the Dream Award ensures I can get through college," Cassidy said.
Cassidy continues to volunteer as well. She is a George Mason University Ambassador leading tours for prospective students and last semester she volunteered with A Wider Circle, a nonprofit helping people in poverty in Silver Spring, Maryland. Cassidy sorted clothing donations, cleaned houseware donations and did whatever else the agency needed at its free store.
"I'm an empathetic person. I just want to help marginalized communities and any group of people not being treated well," she said.
Despite their struggles growing up, Cassidy's mother, now in recovery, is her role model. "She went through such an extraordinary hard time. Seeing her persevere shows me I can do anything. My mother's recovery showed me you can hit rock bottom and return stronger than ever. I do not regret what happened, for it made me a better person."
"When going through hard times, things do get better."