A 9,000-Mile Journey To a Better Life: Dream Award Scholar Nura Ibrahim
By Claire Berge Schmidt
Nura Ibrahim is the oldest of five children and a proud first-generation college student, but her journey to get there was filled with terror, poverty, and violence.
Escalating civil war in her home country of Somalia left her without hope – and when militants broke into the family's home, killing her grandmother during her evening prayers, 11-year-old Nura fled Mogadishu with her parents and siblings.
Since they had no car, the family walked several days to get to the border and cross into Ethiopia, hoping to reach the safety of a refugee camp her father had only heard about from family and friends.
"My family fled leaving everything," she said. "We had no food and stopped for water and rest to survive. We had no weapons to protect ourselves." They survived encounters with snakes, threw rocks to chase off hyenas, and found help from some nomad families along the way who were able to guide them toward their destination.
When they finally arrived at the refugee camp in Ethiopia, they were given a warm welcome and temporary housing made of bricks and mud. The United Nations provided support including education, food, clothes, some money, and other essentials for the refugees. The children were divided by age to attend classes at the camp's tent school.
A New Journey Begins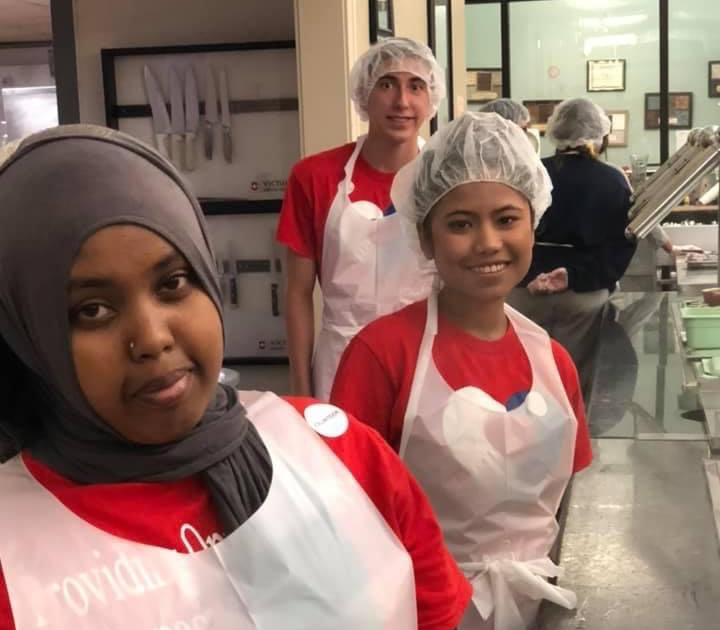 The school, where Nura and her younger brother were placed in the same grade, was just one part of a busy new life. "My mom had a little shop to sell vegetables, fruits and other items seven days a week," she recalled. "Every day, I woke up early for class, headed home after school to cook for my siblings, wash clothes and clean the house. After that, I helped my mom in her shop in the afternoon. At sunset, she would come home tired and go to sleep."
Nura remembers seeing United Nations workers and volunteers come to the camp. They brought school supplies, which made a world of difference to the children – and sparked her interest to help other refugees.
When she arrived at the refugee camp, Nura already spoke three languages fluently – Amharic, Somali, and Arabic, plus a little English. When the Ibrahim family immigrated to the United States, they settled in Fort Worth, Texas; World Relief North Texas helped them find housing and healthcare and provided guidance for her parents to find jobs. And Nura and her brother began adding another language to their repertoire.
New Opportunities – and An Immigrant's Struggles
Nura and her brother began their American education at the International Newcomer's Academy, a special school for English as a Second Language (ESL) classes. Then they transferred to South Hills High School – an experience very different from what they were used to.
"My parents only finished high school in Somalia and knew nothing about the American education system, applying to college or scholarships," she said. "Girls and boys in Somalia can attend school, if your parents want you to go and mine were supportive. We did not have technology in class, so no laptops, online tools or projectors — just a blackboard, chalk and textbooks."
Nura's parents were encouraging, and she sought out advice and mentorship from her teachers. She took advantage of advanced placement classes, and sought out academic opportunities in her new home – while staying steadfastly committed to her culture and faith.
"I was the only Hijabi girl at South Hills High School, and bullied by some immature kids who knew nothing about my heritage," she said. "I know why I am wearing [my hijab], so I walked away and didn't pay attention to them. I knew I had a bigger goal in mind. I won't forget my faith and become Americanized. I came to this country to help myself, help my family and the community."
Her focus, hard work and perseverance helped Nura excel academically. She was secretary for her high school's National Honor Society, participated in the Intercultural Network Club with international students, and met twice a month with a mentor to help her prepare for college. She graduated from South Hills with honors and prepared for her next step.
Making College Dreams a Reality
Despite her success and motivation, she knew she would need financial help in order to go to college. During her senior year of high school, she searched online frequently for scholarships and was happy to learn about the Dream Award – designed to help students like her beyond their first year of college. She became a Dream Award Scholar and is now in her second year at Tarrant County College in Fort Worth.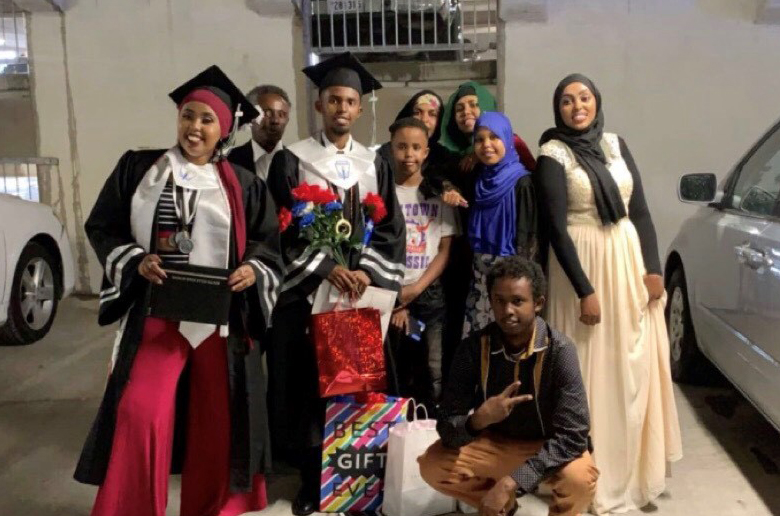 "The Dream Award scholarship saved me in so many ways I couldn't even imagine," she said. "It let me save time to focus more on my education. It allowed me to take better care myself and be able to help my family with home chores." Nura has spread the word about the scholarship to friends from her school at the refugee camp, and continues to encourage others to apply.
Unfortunately, she hasn't been able to do so in person. Due to COVID-19 restrictions, all her classes are still online for the second consecutive year.
"The pandemic made coursework much harder for me," said Nura. "I had never taken classes online before. I felt lost my first semester of college and had a hard time keeping track of my schedule. All my siblings are also home taking online classes in a very small apartment. All our area libraries were initially closed, so I had to set up a space in my bedroom to study."
In spite of these unexpected bumps in the road, Nura managed to establish a system that worked for her, and she is on track to transfer to the University of North Texas (UNT) in the fall. She plans to major in International Studies, with a minor in Spanish and Mandarin. She is excited about moving up to a university to meet more people and expand her linguistic skills.
"I chose UNT because they have a strong program in International Studies and research," Nura said. "I want to be part of their research program when I go there. The Dallas/Forth Worth area has multiple organizations dedicated to welcoming refugees. I hope to immerse UNT students into the existing refugee services in order to reach more people who have left their home countries.
"I know how important the U.N. and other agencies are that helped my family have a fresh start in the U.S.," she said. "In fact, I volunteered with the local agency to assist other immigrating families getting situated in Fort Worth, using my foreign language skills."
Plans for the Future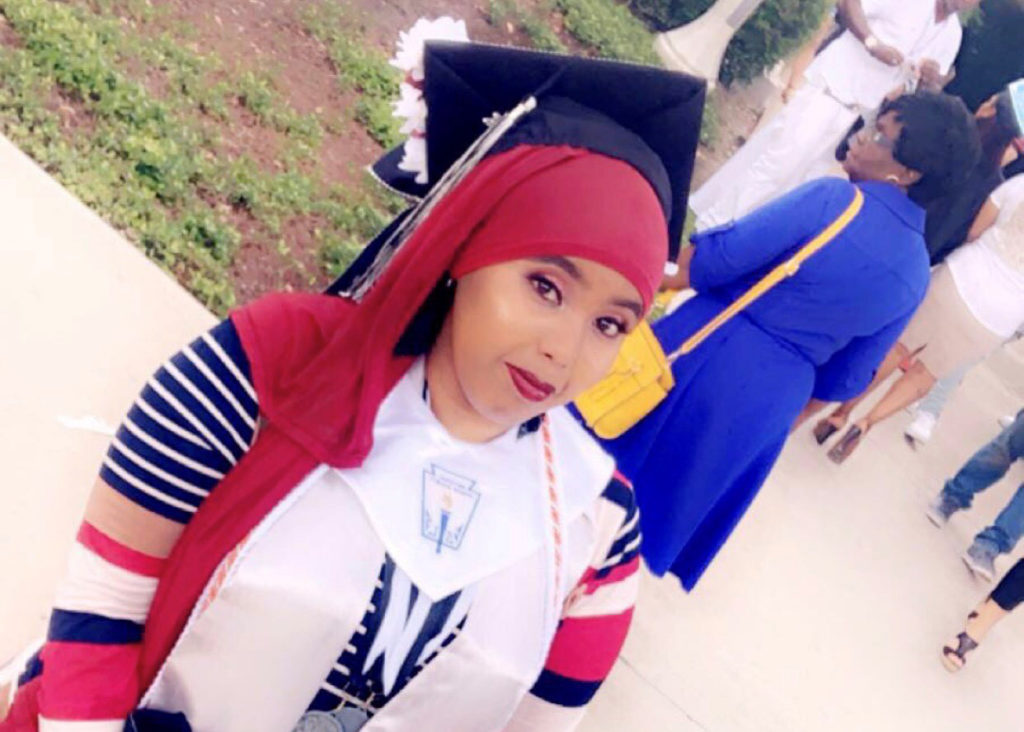 Nura hopes to complete her bachelor's degree in 2023, and then plans to return to Africa for her next step. "I want to take a year to focus on my religion at an Ethiopian school [and] study the Koran, and then go for my master's degree," she said. And she's also looking toward another milestone – American citizenship.
"All of family members have applied for citizenship, and I am just eagerly awaiting notification for my interview," Nura said. "My brother closest to my age and mother have already received U.S. citizenship. Thanks to this country we have safety, education, freedom, and job opportunities."
After completing her educational journey, Nura dream of working with the United Nations High Commissioner for Refugees in New York. The hardships she endured have fueled her resilience, passion for immigration policy, and commitment to help other refugees.
"Winston Churchill once said, 'Success consists of going from failure to failure without loss of enthusiasm," explained Nura. "And while I never define my obstacles as failures, I mark my success by my repeated perseverance through adversity."