Virtual College Campus Tours: Part 2 Southern U.S.
Preparing for College | 4 minute read
In part 2 of the series, we highlight some college campuses with virtual tours available in the southern region of the U.S.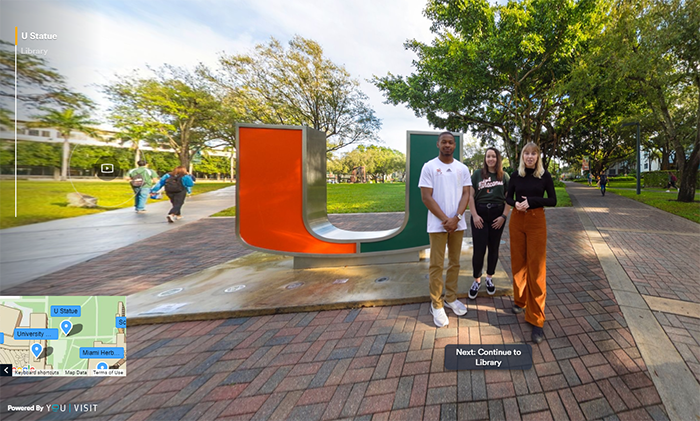 For students looking ahead to their future college destination, it's not easy to check out all your options in person—and that's why we're taking a trip around the country to highlight some schools that offer great virtual visits!
In Part 2, we're looking at five schools in five states throughout the South. Even if a busy schedule, a tight budget or travel restrictions are keeping you from visiting in person, these five virtual tours will offer you a perfect chance to check out life on a variety of campuses.
Located in Gainesville, Georgia—an hour north of Atlanta—Brenau University is a private, comprehensive university that includes the Women's College (for on-campus undergraduates), the Undergraduate School and the Sidney O. Smith, Jr. Graduate School. Students attend Brenau University on campus and online; no matter how you're learning, Brenau challenges students to live extraordinary lives of personal and professional fulfillment.
When it comes to visiting virtually, the school offers plenty of options. In addition to the virtual campus tour, you can check out the Downtown Center (home to Brenau's anatomy lab, technology enhanced classrooms and fine art gallery), as well as in-depth views of departments and highly-rated majors including Physical Therapy, Physician Assistant Studies and Nursing.
Founded in 1872, Lander University is a coeducational, public, four-year university in Greenwood, South Carolina with approximately 3,500 students. Focused on traditional liberal arts and science programs as well as professional programs in business, education and nursing, Lander strives to provide exceptional educational opportunities for traditional and non-traditional students alike.
Lander's Virtual Visitor Center provides a wealth of opportunities to experience the campus from your laptop. The self-guided Virtual 360 Campus Tour gives you a detailed look at classroom buildings, libraries and student facilities like the fitness center and student union. The school is offering a virtual "paying for college" panel as well as regular virtual sessions for parents. (And if you're looking to continue remote learning, Lander delivers seven undergraduate and four graduate programs that are 100% online.)
Situated in the heart of Memphis, Tennessee, Rhodes College offers students the best of both worlds: a highly selective, small liberal arts and sciences college atmosphere, and a major metropolitan area full of cultural life and job opportunities. The college is home to just over 2,000 students, and boasts an average class size of just 13. What's more, the campus is considered one of the nation's most beautiful, with more than a dozen buildings on the National Register of Historic Places.
Fortunately, you can see Rhodes for yourself with the 3-D Virtual Map and 360 Tour on the school's website. You'll get a glimpse into campus life and learn about school features and traditions, and you can also check out a series of "Experience Rhodes" videos covering everything from dorm life to dining to living in Memphis.
Virtual tour experiences can help expand your college search when a busy schedule, tight budget or travel restrictions are keeping you from visiting in person, offering you a perfect chance to check out life on a variety of campuses.
Based in the vibrant heart of an international crossroads city, the University of Miami is a private research university with more than 10,000+ full-time, degree-seeking undergraduates and 6,000 full-time, degree-seeking graduates from around the world. With over 180 undergraduate majors and programs of study offered through nine schools and colleges, "The U" offers a large-university experience—but a student-to-teacher ratio of just 12:1.
Prospective Hurricanes can check out the Virtual Visit webpage for information sessions (including dates/times set aside for international students and transfers), a full campus tour and walkthroughs of the schools of architecture, music and marine science.
The University of Richmond is located in Virginia's capital city, on a campus that Princeton Review named the nation's most beautiful. With just over 3,000 undergrads and 850 graduate students, Richmond combines a liberal arts grounding with specialized education in law, business, leadership studies and continuing education.
Most Richmond students opt to live on campus, and there are lots of options for checking out the surroundings virtually. In addition, virtual info sessions, webinars and chats geared specifically toward high school students can help you learn more in depth by connecting you one-on-one with a current student or alum, and the Spinning Your Web workshop series is designed to help high school seniors prepare for college life, no matter where you end up attending!
We hope these virtual experiences can help expand your college search—and, don't forget, all Scholarship America Collegiate Partners (like these five schools) work with us and with you to maximize the impact of your Scholarship America and Dollars for Scholars awards.
Continuing Your College Planning Journey
As you look to find the right college for you, have you wondered how you can confidently determine how much it will actually cost? Check out our eBook to get a break down of all financial aid options to better understand the cost of college.