Where Will This Year's High School Grads Be Next Year?
Caps, gowns and graduation parties are in full force this season, and with good reason: In 2012, the U.S. crossed the 80 percent high school graduation rate, the first time in the nation's history. We'd be remiss if we didn't acknowledge this momentous achievement, especially since GradNation also revealed that the number of students enrolled in "dropout factory" high schools — schools in which twelfth grade enrollment is 60 percent or less than ninth grade enrollment three years earlier — decreased 47 percent over the past decade.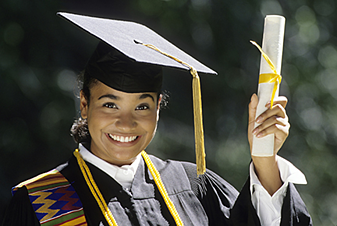 As we celebrate the educational successes that are happening nationwide, we also acknowledge that there's more work to do to increase the 80 percent threshold — and to ensure more of those students reach the goal of college completion.
Over the past 55 years, Scholarship America has distributed more than $3 billion to two million students to pursue their postsecondary education. Along the way, we've met incredible students whose dreams for their future exemplify why higher education is so crucial.
Students like Viviana, a first-generation college student who worked while attending classes, underscore the importance of providing scholarships and other forms of educational assistance. "Without the funding, I [wouldn't] have been able to take my car to school, and I wouldn't have continued with my classes," she said. And with her education, she wants to support herself and her family.
Stories like Viviana's are telling: Barriers to higher education exist, whether they're high tuition costs or simply the need to find transportation to campus. Supporting students, including supporting scholarship programs, makes a significant difference in helping students overcome those barriers.
The U.S. Bureau of Labor Statistics reported that, despite that 80 percent high school graduation rate, just 65.9 percent of students enrolled in a college or university in the fall of 2013 — the lowest percentage in a decade. The soaring cost of tuition has also forced more than a third of that group to seek work while still in school, causing an even busier work-life balance.
The hefty dependence on student loans has saddled a generation of students with college loan debt to repay — or default on — for years to come.
And disparities in college preparation, including the increased obstacles for low-income students, engender even more difficulties in staying enrolled.
"To put it in blunt terms: Rich kids graduate; poor and working-class kids don't," wrote Paul Tough in the New York Times Magazine. "Or to put it more statistically: About a quarter of college freshmen born into the bottom half of the income distribution will manage to collect a bachelor's degree by age 24, while almost 90 percent of freshmen born into families in the top income quartile will go on to finish their degree."
Yet, across the country, students from all walks of life persist in their education. The barriers are significant, but the stories and the statistics tell us: College is worth it.
"The pay gap between college graduates and everyone else reached a record high last year, according to the new data, which is based on an analysis of Labor Department statistics by the Economic Policy Institute in Washington," wrote David Leonhardt for the New York Times. "Americans with four-year college degrees made 98 percent more an hour on average in 2013 than people without a degree. That's up from 89 percent five years earlier, 85 percent a decade earlier and 64 percent in the early 1980s."
Where will this year's high school graduates be a year from now? Many will be enrolled in college, even working while attending classes. Some will enter the workforce directly. But a number will drop out of school. Given what we know about the value of postsecondary education, Scholarship America will continue to work to make college worth it, and we need your support.
We're seeking to help 750,000 students complete their education beyond high school with manageable debt by 2025, and your contributions are invaluable to help us reach this goal. Together, we'll help close the gap between high school graduation and college completion for future success.