Tuition Assistance: Not Just for the Military
By Matt Konrad
For high school graduates who are concerned about paying for college, enlisting in the military has long been an attractive option. Service in the U.S. Armed Forces comes with a host of benefits that accrue over time—not least of which is a generous tuition assistance program.
As we've covered on our blog before, Military Tuition Assistance Programs (TAPs) provide higher education funding for active-duty and reserve service members in all branches of the military:
"Tuition assistance funds are no-strings-attached and generally paid directly to the college or university; Military.com specifies that "TA is not a loan; it should be viewed as money you have earned just like your base pay." For active-duty members of the Army, Navy, Air Force and Marines, tuition assistance covers $250 per semester credit hour, up to $4,500 per year. Air Force and Army reservists are entitled to the same benefit, as are Navy Reservists and Army National Guard members on active duty status. Active duty and reserve Coast Guard members receive the same $250/semester hour, but with a lower annual cap.
The military's tuition assistance model is a welcome benefit for service members who are planning their future careers. But tuition assistance isn't limited to the military—more and more employers in both the public and private sectors are offering tuition assistance as an integral part of their benefit plans. Whether you're a veteran, a military family member or a civilian in the workforce, here's what you need to know.
Employees Want to Learn—and Employers Want to Help
LinkedIn's Workplace Learning & Development report provides some strong indications that employees, especially Millennial and Gen Z members of the workforce, place a high value on on-the-job learning. CNBC reports: "LinkedIn's research found that roughly a quarter of Gen Z and Millennials say learning is the number one thing that makes them happy at work, and over a quarter (27 percent) of Gen Z and Millennials say the number one reason they'd leave their job is because they did not have the opportunity to learn and grow."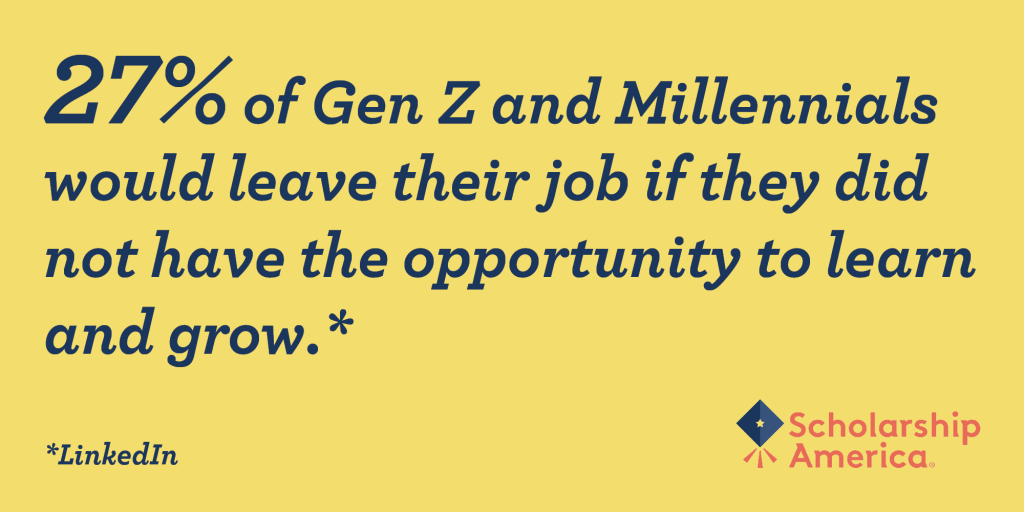 Accordingly, more and more companies are investing in employee education, in a wide variety of ways. Self-directed, online and mobile courses are seeing increased budgets and participation, and three-quarters of learning & development managers say that identifying and filling skills gaps are their top educational priorities for the coming year.
Supporting employees' college, university and technical school education is one major avenue by which employers can start to fill those skill gaps—and it can be a win-win-win for employees, their employers and their schools.
Tuition Assistance Pays Off Across the Board
Employer-provided tuition assistance is, first and foremost, a fantastic benefit to employees. They can continue learning and developing skills, without having to worry as much about tuition costs or student loans. IRS regulations also specify that employees can receive up to $5,250 in employer-sponsored tuition assistance tax-free.
For employers, there are also multiple benefits. Investing in employee's college attendance leads to the development of a smarter workforce, without the need for staff members, managers or learners to take time out of the workday. Tuition assistance has also been shown, time and again, to be a powerful contributor to employee retention, thereby reducing the resources needed for recruitment and training of new staff.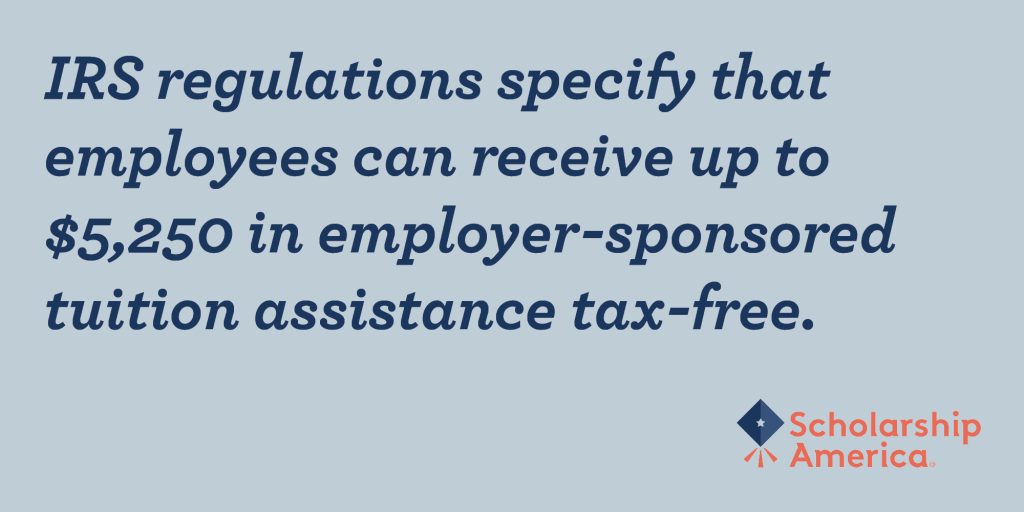 Last but not least, employer-provided tuition assistance helps colleges do more for their students. The employees who benefit may not have considered college otherwise; with tuition assistance, they bring a new, diverse perspective to their classes. In addition, the tuition funds being paid by employers help colleges free up more financial aid dollars for more students, and make college budgets less reliant on donors, family contributions and fees.
A Benefit for Everyone
A study from Bright Horizons, the Working Learner Index, brings the power of tuition assistance into sharp relief. The study surveyed employees who have participated in employer-sponsored TAPs, and more than 80% said they "believe the skills or degree earned through their employer helped to prepare them for the future of work, and that their continued education, made possible by an employer's tuition reimbursement program, made them more effective employees."
A majority of participants rated tuition assistance as a more important benefit than paid family leave, disability and life insurance and wellness benefits. The message is clear: employers who offer tuition assistance are investing in workforce development and employee loyalty—and employees who can take advantage of these programs should do so.
For military members, veterans and their families, it's as simple as searching your branch's tuition assistance benefit website; for private-sector employees, it may take a bit more work, but your HR department can help. And for employers looking to make a smart benefit investment, take a look at Scholarship America's ebook "Tuition Assistance: Making an Impact" to learn more.