Striving To Make An Impact: Dream Award Scholar Michelle Nguyen
By Claire Berge Schmidt
Though born and raised in Minnesota, Michelle Nguyen did not have a typical Middle American upbringing. Her father was a refugee from the Vietnam War. He later sponsored his wife and children's immigration to pursue a better life for their family. Two years after they arrived in the United States, Michelle was born; she has two older brothers, ages 31, 26, and a younger brother who is 19.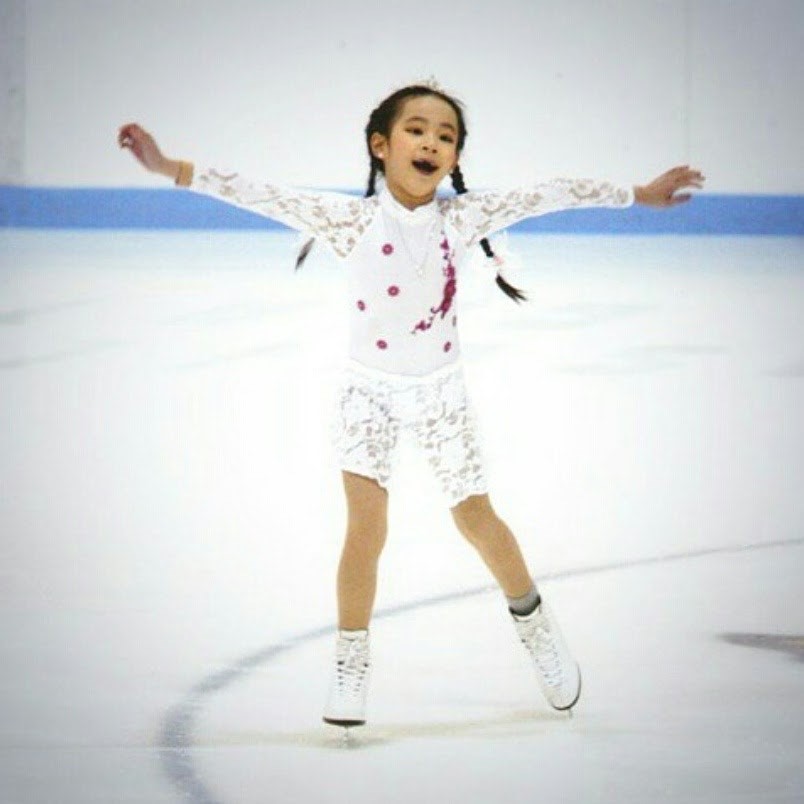 Michelle's parents worked tirelessly as janitors to provide for their family, and her dad even worked a second job as an assembly line tester to help make ends meet. "I am thankful for my parents," she said. "They gave up everything they knew to come to a new country and give us a better life. They helped shape my work ethic, ambition, passion for education, love of sports, and dreams because I know how hard my parents worked for our family."
Learning English – And Becoming A Family Organizer
Michelle was raised following Vietnamese tradition, and she experienced adapting to the U.S. culture at the same time as her parents.
"My parents mainly spoke Vietnamese to me and my brothers when we were young so English was not my first language," said Michelle. "It was hard to excel in learning English because I could not ask my parents for help and had limited practice speaking the language at home. I learned to speak English by watching television and attending English as a Second Language classes (ESL) until 5th grade."
Grouped with several children from other countries, her best friend in kindergarten was adopted from Russia. Though they both struggled to learn English, they understood the universal language of friendship, which has helped her to this day.
Early on, Michelle struggled with English comprehension and reading. She remembers being frustrated when making a Mother's Day card for class because she could not remember the English word for grapefruit — her mother's favorite food.
"Knowing early on that English was not a strength, impacted my confidence in elementary school," said Michelle. "Following Asian culture, my parents would always say to me and my siblings to speak only Vietnamese at home to our parents. By the time I started 5th grade, I started feeling embarrassed by having to leave class to practice reading with an ESL aid. The other kids wondered where I was going."
Fortunately, she graduated out of ESL that year. "I was glad to finally be done, and not have to leave regular class every day to practice my language skills," she said.
"Getting B's and even some A's in English comprehension in school was a major accomplishment," said Michelle. "Though I struggled to become proficient in English, it helped broaden my perspective to meet others different than me and be willing to take on new challenges."
Those challenges weren't only in the classroom, either. "As the only daughter, who was learning English is school, I was treated like a parent of the family," said Michelle. "I was responsible for planning family schedules and doctor appointments. I managed things so my parents who worked long hours as janitors into the evening after dinner did not have to worry about it. I would usually go to doctor's appointments with my mom and help translate. Having so much responsibility for my family, helped with my transition to college."
A Passion for Skating
Michelle grew up loving to ice skate. She started figure skating when she was nine years old and eventually began to train several times a week after school. As a high school student, she qualified for regional competition, finishing in fourth place at the Upper Great Lakes Regional Figure Skating Championships.
Unfortunately, Michelle suffered an injury while completing a double Lutz jump, losing feeling in her back and discovering a pinched nerve that led to her having to quit competitive skating. She and her family were scared how well she would be able to recover, and she went through physical therapy for a few years to regain her mobility. But after getting used to practicing skating most every day after school, her change of routine left a big void.
Instead of withdrawing, Michelle looked for opportunities to get involved in other ways. She discovered a passion for public service, volunteering to become a student campaign manager for her favorite teacher, Steve Cwodzinski, who retired and ran for the Minnesota State Senate and won.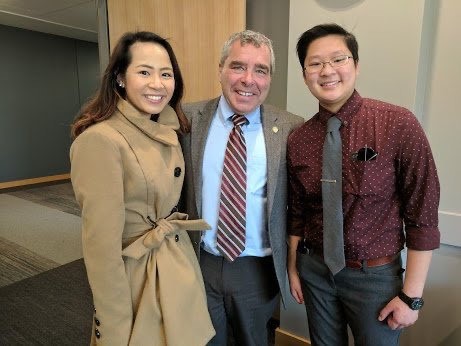 "I worked many nights at the campaign office until 10 or 11 pm, assembling mailings and answering phones," she said. "I also got involved on the math team, Science Olympiad and became the Student Body and Student Council President of Eden Prairie High School by my senior year, working closely with the Principal and student leaders. It was also an honor to be chosen to give my class's graduation speech."
"State Senator Steve Cwodzinski inspired me to pursue studying politics and economics," said Michelle. "He lit the flame for me becoming interested in pursuing a career to help other people."
Finding the Right College Fit
As she prepared to head off to college, Michelle's dad suffered a work-related injury. Even though he received workers compensation, it did not pay enough to support the family. Even worse, they worried that her father was at risk of losing his job due to the injury.
With cost a major consideration, she decided to attend the University of North Dakota (UND) in Grand Forks to pursue a double major in Political Science and Economics.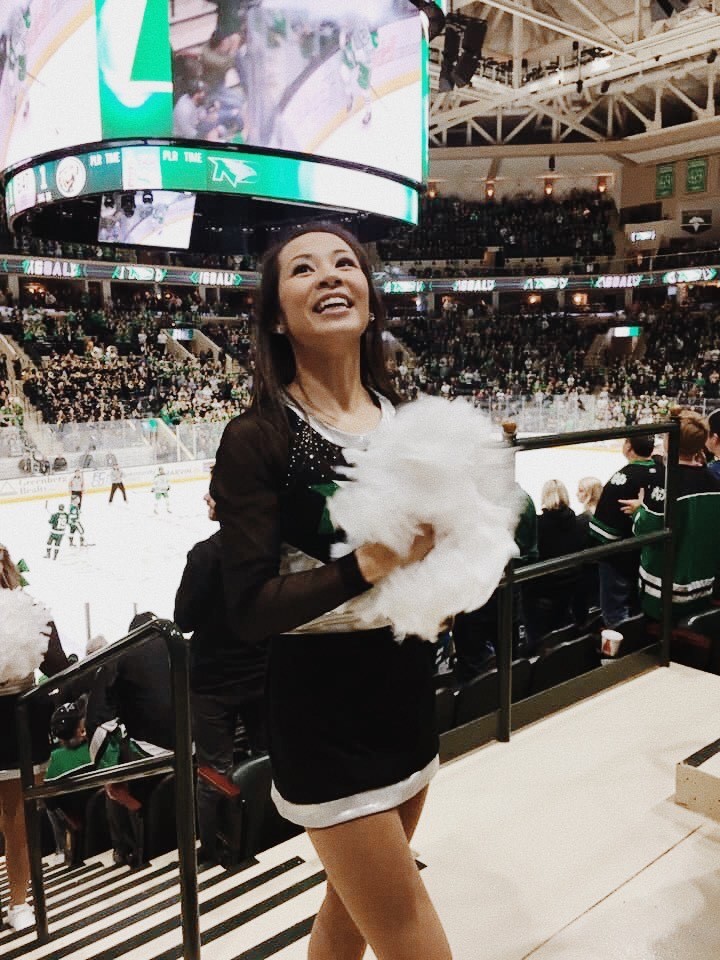 "I selected UND because it is more affordable than other schools in the region," she said. "I also liked their impressive ice arena where I could still enjoy figure skating. The campus feels like a small town and you can really get to know your professors."
Michelle also quickly discovered that UND connects proactively with prominent alumni. She met the president of the Federal Reserve her first year of college, and she was inspired by Kris Engelstad, whose father Ralph was a star UND hockey alumnus, NHL goalie and successful investor in the hospitality and casino industry. Kris spoke about the importance of philanthropy and women in business, noting how a scholarship for her father to attend UND ended up impacting their entire family tree.
[Michelle joined the UND hockey cheerleading squad—here she is in a pregame performance. (Video courtesy Michelle Nguyen)]
Need for Financial Aid
Michelle was also impacted by scholarships from her first days on campus. As a freshman, she received the Lanterman Foundation Scholarship that helped towards tuition during her sophomore year; she also earned two scholarships through the UND Political Science and Public Administration Department. But even with those awards, she still had to work multiple jobs and look for additional aid. She learned about the Dream Award from the college's scholarship coordinator.
"I was looking at a scholarship called APIA – Asia Pacific Islander for first-generation students," she said. "Knowing my background, the counselor then found the Dream Award and suggested I check it out. I reviewed the website, social media channels and applied."
"My biggest fear about going to college as a first-generation student was not about passing classes but rather being able to simply afford it," she said. "The Dream Award helped provide financial relief. It has lifted stress off my family's shoulders."
Michelle joined her fellow Dream Award Scholars at the annual Dreams to Success event in Washington, D.C. last May, even hosting a takeover of the Scholarship America Instagram account to commemorate the day. "The opportunity to … meet the other scholarship recipients and hear their stories was a greatly appreciated," said Michelle. "I learned that every student's story is unique and it helped me feel confident in reaching for my goals and believe in myself. I feel connected with the other recipients."
"Unlike many programs, Scholarship America works with scholarship recipients until you graduate," she said – and now she's giving back, as well. "The event was a life-changing experience and it was great to be able to speak with donors and staff who support the program. The staff showed me their love for their job and that is what I want to experience in my future job and know I can positively affect other people. I asked how I can help the organization and was connected with the North Dakota chairs for Dollars for Scholars. They in turn invited me to be a judge for the chapter's competition for high school students vying for scholarships."
Relieving Stress, Creating a Brighter Future
Throughout her life, Michelle has also learned to deal with mental illness. She obtained help by speaking with counselors and doctors to learn more about who she is and what it means.
"I always worry about failing but have learned to manage my stress and anxiety," she said. "I plan for breaks during the day to relax and reflect what needs to get done right away. It is hard for students to find balance between school, work and life. Receiving the Dream Award has really helped alleviate the financial stress from my family's economic situation."
Once she graduates in fall 2020, Michelle hopes to one day be able to give back to help others who may have faced the same struggles she did.
"I hope to pursue a master's in International Trade or Econometrics and would like to work as an economist one day for a nonprofit," she said. She hopes to help advocate for other disadvantaged students to have the opportunity to pursue their educational dreams in college.
"Everyone has a reason in life," said Michelle. "I hope to impact the world, whether it be through government, nonprofit work, advocacy or economics. I was accepted into the London School of Economics for a summer program; however, I could not afford to attend. I hope to one day study at LSE because of their prestigious dedication towards the betterment of the world using politics and economics, my two key passions."