Find Your Perfect Fit With Virtual Campus Tours: Part 3
By Matt Konrad
As we approach the official end of summer, our look at some of the nation's best virtual campus visits makes its way to the Midwest. As with the Northeastern schools in Part 1 and the Southern colleges in Part 2 of this series, all five of these institutions are Scholarship America Collegiate Partners—meaning they promise that Scholarship America awards will not reduce your financial aid package. (Some even offer matching grants!)
Our virtual tours start just a few miles from our Scholarship America headquarters, with a look at Minnesota State University – Mankato. A comprehensive, four-year doctoral university, MSU-M has more than 15,000 undergraduate and graduate students, 25 nationally accredited programs and more than 140 undergrad majors, minors and pre-professional programs. The engineering and MBA programs are noted as among the best in the nation, and Minnesota State Mankato has been described as "best value for your education dollar" by Kaplan/Newsweek.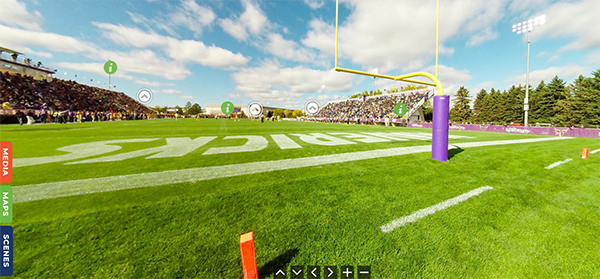 Prospective Mavericks have plenty of options for virtual visits. The university website offers a VR tour, a video visit led by student ambassadors, and deep dives into everything from dorm rooms to local highlights. You can also schedule one-on-one Zoom visits with first-year and transfer admissions experts, giving you time to get your questions answered directly.
Staying in our home state of Minnesota, we make our way to Carleton College in Northfield, just 40 miles south of the Twin Cities. Carleton is a national coeducational, residential, liberal arts college, with just under 2,000 undergraduate students calling its 950-acre campus home. The first college in the Upper Midwest to be granted a chapter of Phi Beta Kappa and Sigma Xi, Carleton graduates go on to the nation's best graduate and professional schools. With a student-faculty ratio of 9:1, Carleton is often recognized among the top ten national liberal arts colleges in the country.
To visit Carleton virtually, you can access an on-demand anytime tour, or attend a live, hour-long virtual visit led by current students, every Tuesday and Wednesday at 9 a.m. and 2 p.m. Central. The wide array of learning options also includes monthly student panels; live and recorded webinars on financial aid, careers, campus involvement and more; and the Six Colleges program, a collaboration between Carleton and five other liberal arts schools to give you a look at more options.
Heading to Iowa, Drake University is a private, independent university in Des Moines, dedicated to the ideals of a strong liberal arts education, complemented by outstanding professional programs. Drake's 3,200 full-time undergraduates benefit from the school's tradition of excellence; over 93% of Drake's faculty hold the highest degree in their field. The university aims to enrich students intellectually, professionally, and socially, preparing them for the changing environment of the 21st century.
High school seniors can take a 90-minute Virtual Sneak Peek at Drake, which includes a campus tour, student panel and overview; deeper dives into admissions and student life are also available. For transfers, graduate students and high school sophomores and juniors, both on-campus and virtual experiences are tailored to your specific questions. Pick your path here!
If you're looking toward a technical career, Indiana Tech is a highly acclaimed school with excellent virtual visit opportunities. Founded in 1930. Indiana Tech is a private, nonprofit institution geared toward learners of all ages, at various career levels. Students can pursue undergraduate and graduate professional education in the areas of business, computer studies, engineering, and other professional concentrations. The school's mission is to prepare you for active participation, career development and advancement, and leadership in the complex, global society of the 21st century.
Located in Fort Wayne, Indiana Tech provides a small metropolitan atmosphere with the cultural advantages of a large city. Virtual visiting opportunities include a student-led tour, admissions sessions, a virtual dorm tour and regular Tech Connect sessions that help you walk through the red tape and puzzling questions of admission and attendance.
Finally, we head to the Midwest's largest city for a visit to the University of Chicago. With a beautiful urban setting and a student-faculty ratio of 6:1, UChicago encourages its 5,700 undergrads to puruse a close-knit, collaborative learning environment on its 215-acre campus near the shores of Lake Michigan.
With over 100 fields of study, students are encouraged to explore interdisciplinary opportunities, study abroad and participate in grad-level courses and research with more than 150 research institutes and centers. UChicago supports over 400 student organizations and as a residential housing model centered on small communities of 40-100 people within the dorms; over 70% of students participate in varsity or intramural athletics as well.
Virtual visit opportunities at UChicago include a wealth of options ranging from virtual campus overviews and student panels to admissions and financial aid Q&As and even model classes. (Spanish-language sessions are regularly available as well.) Visit the UChicago website to see what's on tap!
If you're still keeping your options open or just starting your search, follow our Twitter and Instagram to catch the next installment in this series, and visit our Browse Scholarships page to kickstart your scholarship season!
What are Collegiate Partners?
If you receive a scholarship from Dollars for Scholars or Scholarship America, we want your dollar to go further, We founded the Collegiate Partners ® program to protect students from displacement — what happens when students earn private scholarships and find their financial aid packages from their schools reduced.
Our network of more than 270 schools make three major commitments to undergraduate students, all to ensure your scholarships from our organization give you the maximum benefit. Read more here.