Congratulations to Roxanne "Rocky" Thompson: 2018 Dollars for Scholars National Volunteer of the Year
By Krista Amundson
By Krista Amundson
Roxanne "Rocky" Thompson has spent over 20 years volunteering her time and talents to the Swanville Dollars for Scholars chapter. The organization in the small Minnesota community of 350 has awarded over $630,000 in scholarships to local students since it was founded in 1987. Rocky's contribution to Dollars for Scholars has been recognized with her selection as the 2018 Ralph "Cy" Seifert National Volunteer of the Year.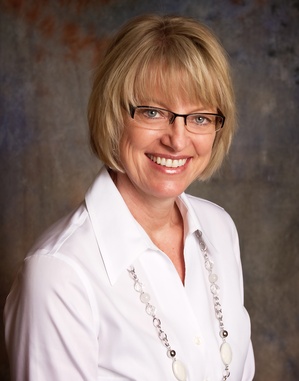 Rocky understands the difference an education can have on a student's future, whether they attend a trade school or four-year university. She went back to school as a non-traditional student to complete a four-year degree and become a Certified Public Accountant. Rocky now owns an accounting firm and encourages all students to pursue their educational dreams.
"Education is power. I'm very passionate about that because I could see what education could do for me. I want to share that message, for these kids to go out and get an education," said Rocky.
She started with Dollars for Scholars when the program began fundraising through charitable gambling in 2000. As the Gambling Manager, she was very involved in the monthly meetings and compliance requirements. When the decision was made to discontinue charitable gambling in 2006 she began helping with other fundraisers and eventually took over the role as President of Swanville Dollars for Scholars. 
Rocky is humble when asked about her contributions to the organization over the past two decades. She is adamant that the success of Swanville Dollars for Scholars is a group effort; everyone involved has brings their own unique talents to the group and this contributes to the success of the organization.
"Being involved in this organization has taught me what a small group of community-minded people can accomplish. I'm really grateful for the people in our community. It has been a pleasure working with them because it is all of us together."
One of Rocky's talents was helping to grow the matching grants program from 14 donors in 2002 to over 65 donors this year. She was able to connect with potential donors by speaking at the local high school graduation ceremony and through conversation in the community to encourage new donors to make the initial $250 contribution for a student to receive a scholarship for $500 with matching Dollars for Scholars funds. The matching program asks that donors commit to providing a scholarship for a minimum of five years. As a result, scholarships distributed through Swanville Dollars for Scholars often continue long after the initial commitment.
The increase in the number of scholarships awarded has helped to ensure the organization's commitment to providing every student that applies an award. The community has rallied around the organization to support the many fundraisers throughout the year. This includes an annual Dollars for Scholars birthday calendar, every year there is a picture of the graduating class and when you buy a calendar you can add your family member's birthdays.
"Virtually everyone in the community buys a calendar. It is so fun to look at the calendar each day and recognize that a neighbor or other community member is celebrating their birthday."
The most notable accomplishment from Rocky's time as president was successfully completing the affiliation process with Scholarship America. Rocky recognized that the small group of longstanding board members needed to recruit new volunteers with the skills required to complete the affiliation requirements. One such task was creating a website to move from paper-based to online applications. Rocky actively recruited young motivated volunteers that could help the board achieve their goal.
In 2016, after a decade serving as President, Rocky stepped down from her leadership role when the club reached a milestone $500,000 of total awarded scholarships. She recognized that the next generation was ready to take over and bring new ideas to the organization. Rocky is still actively involved and is excited to be a part of supporting Swanville students continuing their education.