Community College Scholarships Can Boost Your Workforce
By Carissa Chang Cress
Students pursuing their postsecondary degree come from all walks of life. That's especially true at community colleges, where more than 12 million students earn degrees, enroll in continuing education classes, obtain certifications and more. According to the American Association of Community Colleges (AACC):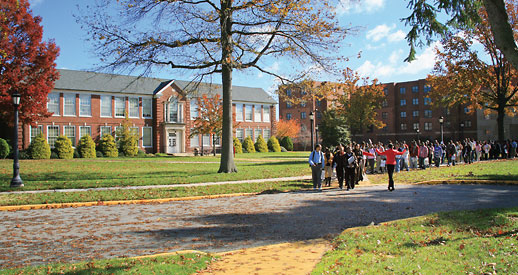 Most community college students study part-time while working full-time.

The average student is 28 years old.

Nearly half of all U.S. undergrads were enrolled at a community college at some point during their studies.
Considering these demographics, the "nontraditional" student – because of age, veteran status or a host of other factors – is increasingly becoming the norm. In response, community colleges often provide flexible, affordable course options for diverse student populations – a potentially ideal option for businesses that have employees wanting to expand their skills.
According to Georgetown University's Center on Education and the Workforce, college-educated workers fill the overwhelming majority of good jobs created in recovery from the Great Recession. In today's economy, postsecondary education is a critical part of gaining access to higher-paying and more secure jobs.
The AACC also reports that community colleges added $809 billion in income in 2012 alone:
"For every dollar that U.S. taxpayers spent on America's community colleges during the analysis year, society receives a cumulative value of $25.90 in benefits, for as long as the 2012 student population remains active in the U.S. workforce."
New or returning students benefit from that education, as it leads to substantial earnings over the course of their career. Business owners can also experience tangible benefits from a more educated, skilled team. The long-term value of community college education, the AACC says, is that society will receive $1.1 trillion in added income over the course of students' working lives, leading to reduced crime, lower unemployment and increased health and well-being across the country.
That's where scholarships, federal grants and other financial aid are vital. For first-time community college attendees, a scholarship can provide the needed boost to stay focused and finish classes in a semester. For returning students, a grant offered by a local community college can help them reach the next step in their career. For current workers, the chance to take classes as part of an employee benefit program enables them to further their skills – and can motivate them to make even more of an impact on your business.
These opportunities can be offered in a variety of forms, too. Many companies develop their employees through seminars and workshops created within the organization; others provide tuition reimbursement at nearby institutions, like community colleges, and for online courses; and still others want to have a presence in a community (or many communities) and offer externally-facing scholarship programs as a result.
Take, for example, career and technical education (CTE). Students interested in "middle jobs" – those that require education and training beyond high school but less than a bachelor's degree – could find a variety of programs at their local community college. With many community colleges dedicated to improving CTE and other programs across the nation, it's no surprise they're a popular option for hands-on training in a variety of fields. Supporting students who want to pursue CTE can give them the head-start they need to succeed.

Whatever your business goals, there's likely an opportunity for community college scholarships to make a difference for your current or future employees. And keeping postsecondary education attainable can pay off in big ways: for the student, our workforce and our nation.