Communities Coming Together: Celebrating The Class of 2020 During Coronavirus
By Matt Konrad
The 2020 graduation season was unlike any we've ever seen. With high schools and colleges finishing out the year in a virtual setting, the Class of 2020 couldn't gather in person to celebrate—but that doesn't mean communities didn't come together to support their graduates.
Here's our look back at how students and communities around the country helped each other in these unprecedented times, featuring Scholarship America's Dollars for Scholars network and other friends and partners.
Originally published May 2020
Taking the Celebration Virtual
Over the last month, we've all become much more familiar with virtual meetings. Whether it's Zoom classrooms, Skype conference calls or FaceTime happy hours, people have been staying connected through their devices—and those tools are helping communities celebrate their students, too.
Minneota Dollars for Scholars in Minnesota hosted a virtual awards night in their school's media center, sharing a bit of history about their scholarships and reading off the names of the recipients. Families were informed when and how to tune in, and volunteers mailed award certificates to students following the ceremony.
At least one family made the ceremony a virtual gala: senior Molly Krog, a scholarship recipient from Minneota Dollars for Scholars, and her family created an awards banquet in their living room. "After hanging out in sweatpants and comfy t-shirts all the time, it was a nice change to get dressed up as though we were going out for the evening. My mom plugged her phone into the big screen TV and we watched the entire 'ceremony'," she said. Krog, who's headed off to the University of South Alabama in the fall to major in Communications, was awarded two scholarships, but she also enjoyed cheering for her classmates as their awards were announced.
On May 7, Scholarship America is hosting our own virtual celebration, replacing our annual in-person event with a Digital Dreams to Success day of giving, in order to celebrate our 2020 class of Dream Award scholars. We're using Facebook as a hub for the event, and will be spending the day introducing the award winners, hearing from past scholars and other surprise guests, and raising dollars for future Dream Award scholarships.
For the Class of 2020, online events can also come with a bonus celebrity presence: pop star Dua Lipa is organizing a virtual prom night on May 8, and Oprah Winfrey is hosting a star-studded virtual graduation ceremony on May 15. It may not be quite the same as coming together in person—but local and national events online can help students make memories of their own.
Coming Together At A Distance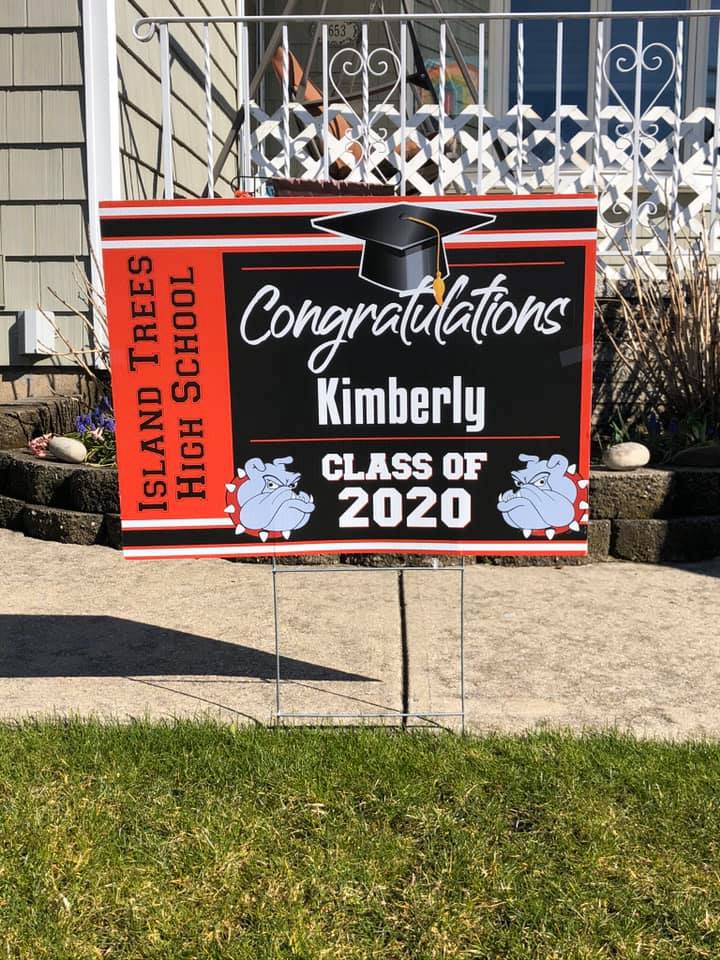 Though we're keeping our social distance to slow the spread of COVID-19, there's still plenty that can be done out in the real world to foster a sense of togetherness. Across the country, schools have organized drive-through graduation ceremonies and senior portrait galleries; Dollars for Scholars communities have worked to bring the spirit of celebration to students' doorsteps (sometimes literally.)
In March, Island Trees Dollars for Scholars enabled families to order graduation lawn signs to celebrate seniors. Not only did it help them observe the Class of 2020, it was also such a successful fundraiser that they expanded it to include middle school and elementary students who are moving up.
Southwick Dollars for Scholars also got creative, taking "Senior Porch-traits" as a way to help raise funds for future scholarships. Families can schedule an appointment to have senior portraits or family pictures taken on their front porch—from an appropriate distance, of course.
Giving Back Where It's Needed Most
No matter what or where the need has been, community volunteers—including students—have been there to help.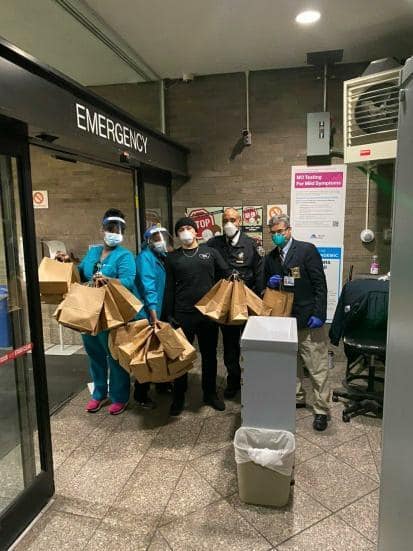 In hard-hit New York City, Greater New York Chinese Dollars for Scholars alumnus and board member Chia Pan delivered hundreds of meals to frontline healthcare workers through his restaurant Tabe Tomo. Across the country in Washington, students and volunteers from Point Roberts Dollars for Scholars partnered with their local Domino's Pizza to provide free pizzas to families. All across the country, volunteers are recognizing local needs and helping solve them.
One of those needs has been emergency support for college students whose campuses closed suddenly; thanks to grant funding, corporate support and active alumni, Detroit Regional Dollars for Scholars was able to quickly mobilize to provide emergency aid to their scholarship recipients—many of whom are first-generation college students and come from low-income families.
The chapter provided laptop computers and Wi-Fi hotspots to help students finish their coursework online, and even helped one student move her belongings back home. Detroit Regional Dollars for Scholars Executive Director Christa Funk said, "We were overwhelmed with the response. …[One recipient had] tutored another student who tested positive for COVID-19 and was in need of food assistance while quarantined; [others were] losing on-campus jobs as universities closed and having no access to find another employment opportunity, or stressed that the computer labs are shut down while their classes continue online. We've heard a lot of experiences over the past few days."
Detroit Dollars for Scholars was able to quickly distribute around $2,000, and is working to help more students. As one recipient said, "Thank you so much! I didn't know how I was going to get my work done. I've been overwhelmed trying to figure out what to do over the past few days and was so relieved when I got the email from Dollars for Scholars."
The last two months have shown us one thing for certain: we're all in this together, and we need connection even if it's not in person. By gathering virtually, celebrating students at a distance and collaborating to help those who need it, we can ensure that the Class of 2020 ends their school year with a memorable experience—and a drive to give back to their communities.