Manuel Alarcon Nova
Indianapolis, IN // Butler University, Indianapolis, IN // Multilingual Studies and Gender, Woman, Sexuality, Studies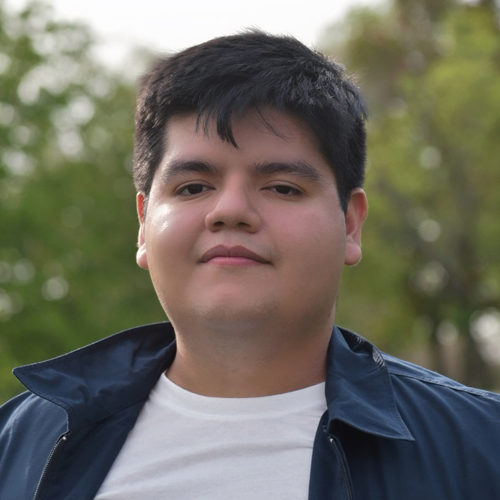 From a 24/7 English translator for his parents, to becoming a polyglot; connecting and learning are at the core of Manuel's existence. He had to come out twice in his life, once as gay, and once as undocumented; neither experience was happy. Throughout his life, he has been denied opportunities and hated because of what he can't control. He is determined to show people that he is more than his immigration status, and more than his sexuality. His goal can be described by the Zulu word, "ubuntu," meaning " I am because we are." He hopes to show others how to turn anger and hardship into resilience, how to be relentless, and the importance of education; all this to make people understand that they have the power to shape the future. He sees himself working in public service, breaking barriers and shaking people to their core.
Andrew Alday
Covina, CA // California Polytechnic University Pomona // Aerospace Engineering

Before graduating from high school, Andrew Alday's family lost their home. To help ease their financial burden, he deferred his dream of higher education and enlisted in the U.S. Marine Corps, where he served for more than five years and attained the rank of Sergeant – all while taking on part-time work to help support his mom. After completing his service, Andrew followed his lifelong fascination with space, entering Cal Poly Pomona as an undergrad in aerospace engineering. He aspires to contribute to the next generation of space exploration, and eventually to become a professor in the field.
Zain Ali
Ashburn, VA // George Mason University // Computer Science

Born in Pakistan, Zain Ali's journey to college was anything but direct. Escalating political unrest in Pakistan led the family to flee in 2014. They endured the hardships of immigrant life, eventually settling in Northern Virginia to seek a fresh start. As a sixth-grader, Zain began teaching himself how to write code; five years later, he'd earned an Apple Worldwide Developers Conference Scholarship and founded an online platform to connect young people with job and internship opportunities. Today, he's pursuing a Computer Science degree and following his passion for solving problems through technology.
Oyuky Aragon-Flores
Forest Lake, MN // College of St. Benedict // Medical Professional

For Oyuky Aragon-Flores, higher education didn't always seem like a possibility. Her parents hadn't gone to college, and Oyuky's two younger sisters both dealt with traumatic health issues from a young age. Surgeries and medical bills stretched the family's budget – but seeing the care and generosity of her sisters' medical treatment also inspired Oyuky to work toward a degree and career in nursing. She took on two jobs alongside a full slate of academic and extracurricular activities; today, as a student at the College of St. Benedict, she's a leader among her peers, a volunteer and a future medical professional.
Katherine Blank
Enterprise, AL // Agnes Scott College, Decatur, GA // Neuroscience and Public Health

In the fall of 2019, Katherine Blank was a college freshman, living on campus at Agnes Scott College. She'd overcome the odds – including her mother's death as a result of the opioid epidemic when Katherine was just 13 – but COVID-19 brought a new set of challenges. When her college shut down in March 2020, Katherine found herself living out of her backpack, moving eight times across three states. But through it all, she's been dedicated to others, working as a home health care aide and mentoring students to find their own scholarships. Despite the tragedies and obstacles she's faced during the pandemic, Katherine continues toward her degree in neuroscience and public health, with a goal to go on to pursue further education in Intraoperative Neuromonitoring.
Wendi Cantero
La Grange, KY // Northern Kentucky University // Accounting and Management

A quiet, shy immigrant student from a low-income neighborhood in northern Kentucky, Wendi Cantero faced bullying and a language barrier, and lost her childhood best friend to cancer in eighth grade. She fell into depression; even after she began treatment, it was still an uphill battle to educate her own family how to help. In addition, as a DACA student, Wendi couldn't access traditional forms of financial aid, but that didn't stop her: she is now pursuing her bachelor's degree in Accounting and Management at Northern Kentucky University, and hoping to follow a career path that provides financial guidance to first-generation students and low-income families.
Shubhecchha Dhaurali
Medford, MA // Tufts University // Community Health, Human Psych Engineering

A first-generation Nepali immigrant, Shubhecchha overcame a childhood marked by tragedy to become the first woman in her family to go to college. When COVID-19 struck, Shubhecchha lost her job – a potentially devastating setback, since she lives independently and pays all of her college expenses on her own. But her life has taught her resilience and self-sufficiency, and she was able to make ends meet until finding another job. Now, thanks to her perseverance and the Dream Award, she's working toward her goals: a doctorate, medical school, a career focused on maternal health for women of color and a nonprofit supporting impoverished village schools in Nepal and the capital city of Kathmandu.
Liselle Diaz
White Bear Lake, MN // University of St. Thomas // Marketing

Since she was seven years old, Liselle Diaz has been raised mostly by her grandmother, as her own mother struggled with addiction. Liselle dreamed of becoming the first in her family to go to college, but a costly operation for her grandmother put a strain on the family's finances. She worked hard to pay her own way at the University of St. Thomas, but when the pandemic reduced her work hours, Liselle had to fall back on student loans. Today, thanks to the Dream Award, she can focus on finishing her marketing degree and pursue her MBA; she hopes someday to be a leader in racial and climate justice and an example for fellow Latina women.
Victoria-Thy Doan
Orange, TX // University of the Incarnate Word, San Antonio, TX // Biochemistry

The daughter of Vietnam War refugees, Victoria has always been dedicated to giving back, even when times were tough. She has spent countless hours volunteering at her church, leading university organizations, and helping out at her family's plant nursery when she is home from school. She exemplifies the resilience of her family, for they have endured cancer in her mom and grandfather, six hurricanes, and most recently, the Texas winter storm. With encouragement from her family and help from the Dream Award, Victoria is working to complete her biochemistry degree, go on to medical school and become a physician.
Cameron Giraud
Davie, FL // Saint Thomas Aquinas, Ft. Lauderdale // Biology

Cameron's life transformed in an instant when she was in the first grade: a family tragedy meant she was suddenly parentless, and living in the care of her aunt. She fell behind her classmates – but she persevered through the incredible adversity, eventually excelling in academics and embracing a love for the natural world. Today, Cameron is pursuing a degree in biology with a focus on ecology, evolution and conservation, and she's striving for a future career in wildlife conservation and education, inspiring people in her Central Florida home and around the world to help heal the planet.
Katarina Hansen
Clearwater, MN // St. Cloud State // Statistics and Biochemistry Science

Growing up with Autism, Katarina felt fortunate to be homeschooled by a strong single mother who encouraged her to be herself and be proud of her accomplishments. She knew that many on the spectrum are not always expected to go to college. An academic overachiever, her mother encouraged her to pursue many interests beyond the required academic curriculum, and she became involved in computer science, chess, and microbiology clubs, as well as Space Camps. Katarina also enjoys sports and participates in track, floor hockey and bowling in Special Olympics, and was able to forge her own path. She has a double major in Statistics and Biochemistry Science at St. Cloud State, and wants to do research on Alzheimer's to understand why it affects the Hispanic population more, like her birth family. Katarina has already proven to professors that she is a stellar student with a great work ethic, and is confident she will stay the course to earn her Bachelor's degree.
Emerson Harman
Dodgeville, WI // Rowan University, Glassboro, NJ // Biomedical Art and Visualization with minors in Biology and Technical Writing

Emerson Harman grew up with a love of both art and science. They also grew up in a family where medical issues were a constant reality: their mother lives with a rare disease that makes full-time work nearly impossible, and Emerson has undergone a series of surgeries since childhood. The financial strain meant college (for Emerson and their brother) wouldn't be easy – but they excelled in academics and a host of activities, and hit the ground running in college. As a freshman at Rowan University, Emerson developed a project to photograph and interview LGBTQ+ students and alumni, and they're pursuing a major in biomedical art & visualization, with hopes of someday earning an M.S. and an MFA.
Jennifer Martínez Sánchez
Tolleson, AZ // Georgetown University // Sociology and Public Health 

When Jennifer was six, her family migrated to the United States from Mexico to escape gang violence, poverty, and corruption, but she soon learned the new challenges that awaited them as an undocumented family in the U.S. Jennifer took on odd jobs whenever she could to send money home, but when she arrived at Georgetown for college, she realized that she needed to push for long-term solutions for her undocumented community. Given her experiences with healthcare and food/housing insecurity, Jennifer turned to medicine as a form of social advocacy. Today, she uses these stories of humanity as she fights for health equity through her work at local immigrant rights organizations and free clinics and through her UndocuHealth Project.
Rebecca Manning
Young America, MN // University of Northwestern – St. Paul // Psychology

Because of personal battles with mental illness in high school and watching multiple family members, relatives, and friends struggle with mental illness and trauma, Rebecca has been motivated to pursue an undergraduate degree in psychology in preparation for grad school, after which she plans on entering the mental health care field. With a minor in social justice, she has a passionate interest in being able to eventually provide mental health care for disadvantaged populations who have little or no access to the care they need. The Dream Award will allow her to efficiently complete her undergraduate studies so that she can go on to help, serve, and empower others.
Mahbobah Naurozi
Chicago, IL // University of Illinois at Chicago // Food Science & Technology

Many circumstances in Mahbobah Naurozi's life affected her education. She grew up in Afghanistan and lost her parents early in her childhood. She quickly realized she had to become independent to be able to live independently. At 13, she immigrated to Iran and studied elementary and secondary levels but could not go further as she wasn't a legal resident. She then immigrated to Indonesia and was in refugee camps to find a more stable life. In 2016, she came to the United States, which changed the course of her life forever. The Dream Award will help her finally attain her advanced educational goals to study Food Science and Nutrition at the Kansas State University. She has a deep interest to learn about food processing and then earn a Ph. D. in Food Science and Technology and hopes to become a food engineer.
Niki Nguyen
Norwood, MA // Bunker Hill Community College, Charlestown, MA // Biochemistry and International Relations

Niki's passion for educational equity was discovered through the work she's doing as a Student Trustee at Bunker Hill Community College and Vice-Chairperson of the Massachusetts Student Advisory Council to the Board Higher Education: advocating for underserved students, like herself, on the continued need for funding in public higher education. Homeless for eight years, she took a gap year following high school to work full-time and be the main caretaker for her mom and grandma. The Dream Award will help Niki pursue a degree in Biochemistry and International Relations and continue her work in being a voice for future students, ensuring they have the support they need to receive a solid, equitable access to education. To Niki, serving her community does not simply mean representing just one voice but standing for every voice at all levels.
Kathleen Soller
Greenwood, IN // St. Mary's College, Notre Dame, IN // Nursing

Kathleen Soller is a dedicated scholar, an athlete – and a cancer survivor in her third year of remission. She was inspired by the compassion and critical care provided by her nurses when she was hospitalized, and is currently pursuing her degree in nursing at St. Mary's College. The Dream Award will help her complete her undergraduate study, and she hopes someday to return to Riley Hospital for Children to help pay her experience forward and care for pediatric oncology patients.
Nicole Trujillo
Houston, TX // University of Houston // Biology

After witnessing a relative battle with COVID-19, Nicole became even more determined to build a career for herself in the medical field. A first-generation student from a low-income family, Nicole hopes to become a general surgeon. With help from the Dream Award, she's working toward her degree in biology. After going on to medical school, Nicole aspires to work within the community where she grew up, and to help break down socioeconomic and language barriers within the healthcare system.
Greta Vasiliauskaite
Lemint, IL // Illinois Institute of Technology // Civil Engineering

Born in Lithuania, Greta immigrated to the United States when she was just three years old. As a DACA recipient, she is ineligible to receive loans, grants or even apply for financial aid. Greta's dream of being the first in her family to graduate college and becoming an engineer seemed far from possible, but that only inspired her to work harder. As a full-time engineering student, she worked nights and weekends to pay for school and earn tuition reimbursement – but even employer help and scholarships weren't quite enough. Fortunately, with the help of the Dream Award and other scholarships, she's able to continue on her path toward her degree and a future Civil Engineering career.
Imanni Wright
Bloomfield Hills, MI // Chapman University, Orange, CA // Broadcast Journalism

Imanni has three key goals for her life. She dreams about becoming an elite sports journalist, attending graduate school to obtain a Master's degree, and then going on to earn her Ph.D. to become a respected college professor and mentor graduate students. She has also overcome challenges. For the past four years, her mother has dealt with life-threatening health challenges that require her assistance with care. This made her first year of college financially challenging when her mother lost her job and Imanni had to manage her Attention Deficit Hyperactivity Disorder (ADHD) and an auditory processing disorder in the face of the pandemic. Moving to online courses only heightened her anxiety. Thanks to the support from the university and her family, she learned to persevere, made the Dean's List, became a student leader, and her mom is thankfully on her way to fully recovering.
Jammal Yarbrough

Rancho Cordova, CA // College of the Canyons, San Clarita, CA // Electrical Engineering
Jammal Yarbrough's life had a tough start. At the age of 8, his father was incarcerated for a 25-year sentence and he never saw him again. His mother was heartbroken and turned to drugs and alcohol to find peace. Without guidance from parents, his life took a turn for the worse and he also ended up spending time in prison. He struggled to understand why he ended up there and made a groundbreaking discovery. He realized not a single person in his family had a college degree or a high school diploma and that created the impetus behind his passion for becoming the first member of his family to get a Ph.D. In high school he excelled in math and science and is pursuing his dream to be an electrical engineer at the College of Canyons. His hard work has given him an opportunity for a bright and promising future.
Kexin Zheng
Brooklyn, NY // Fordham University, New York, NY // Psychology and Chinese Studies

Kexin Zheng's father was injured in 2015 in a work accident, leaving Kexin and her mother as the primary caretakers for their family. As the eldest of three, Kexin paves the way for her siblings. Fascinated by human behavior and development, she aims to pursue a degree in psychology and Chinese studies. She has already published a journal on cognition, presented an abstract on the imposter syndrome in Asian American female youth, and currently serves as an undergraduate researcher for the 2021 Tri-State Explore CSR Google Project, Preference Detection Using Eye Movement Gaze Tracking and Combinatorial Fusion. She observes the multiple acculturative stressors Asian Americans face and intends to mitigate the social stigma surrounding mental health and bridge the gap between eastern and western cultures. Kexin is passionate about and committed to giving back to her community and helping the vulnerable and minority populations.