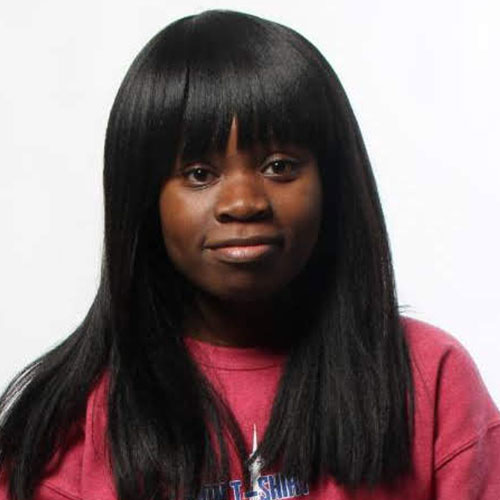 Paula Alihonou
St. Paul, MN // Macalester College // Neuroscience
After seeing her father pass away from sickle cell anemia, Paula, a Togolese immigrant, knew she wanted to become a doctor and help others find comfort through their illness. But from age 15, she had to work to help her single mother put food on their table. Overcoming language and cultural barriers, she made it to college, and the Dream Award will provide her with the support to make her dream of being a doctor a reality. 

Thomas Ballinger
Reno, NV // Washington State University // Genetics and Cell Biology
Thomas is a college freshman, a piano player and a student with autism, and he grew up in a family deeply troubled by addiction. Seeking to learn what it meant for something to "run in the family," he became fascinated with the study of genetics—a field that no in-state school offered as a major. The Dream Award ensures he can afford to follow his passion, even with out-of-state tuition.

Rosalina Burton
Davis, CA // University of California – Davis // Human Development
Growing up in the foster system, Rosalina lived in more than 20 homes and attended 15 different schools before age 19. In pursuit of emotional and financial stability, she spent four years working full-time, returning to college at 23. Today, Rosalina is a McNair Scholar at UC-Davis; the Dream Award will help her complete her studying in Human Development before she goes on to pursue a Ph.D. 

David Cazares
Gainesville, GA // University of North Georgia // Biology
The day David Cazares applied for his first part-time job was the same day his mother went to the hospital for emergency kidney surgery—and he'd end up working with the same doctors and nurses that treated her following high school. The experience inspired David's passion for medicine. The Dream Award will keep him on track to go after his dream of becoming a doctor.

Ciara Davies
Weston, MO // Central College // Sociology
Growing up with depression and anxiety, Ciara has overcome incredible obstacles to get where she is today. She is currently studying sociology, global health and Spanish, with a goal of becoming an epidemiologist and discovering new ways to prevent the spread of diseases and reduce the number of disastrous epidemics in the world. The Dream Award will allow her to follow this passion and devote her academic career to this vital field. 

Hui Ping Deng
Brooklyn, NY // Barnard College // Biology
Though she has lived all over the globe—China, Mexico, New York—Hui Ping has been guided by advice her mother gave her at a young age, while she struggled to learn Spanish: "Be like math," the universal language. This advice helped her persevere through language and communication struggles; the Dream Award will help her complete her biology degree and pursue a career in education, allowing her to use her voice to help others succeed.
Hui Ping is the recipient of the Chinese American Dream Award scholarship, sponsored by the World Journal.


Marissa Gerstner
Fort Atkinson, WI // Carroll University // Elementary and Special Education
When Marissa was two weeks old, she was abandoned by her Chinese parents, put in an orphanage, then adopted by a single American woman who provided stability. Childhood struggles led to a diagnosis of attention deficit hyperactivity disorder (ADHD); medication helped her think more clearly, control her anger and earn good grades. The Dream Award is helping her pursue her dream to be an elementary/special education teacher, to inspire students with special circumstances. 

Audrey Hammond
Los Angeles, CA // Loyola Marymount University // Applied Information Management Systems (AIMS)
Audrey grew up overcoming challenges—and that was before a difficult divorce left her, her mother and her sisters struggling to find food and shelter. Due to her determination and perseverance, Audrey finished high school, made it to college and found a calling. The Dream Award will support her as she strives to become a STEM professional and serve as an example to other women of color in technology. 

Nura Ibrahim
Fort Worth, TX // University of North Texas // International Studies
A native of Mogadishu, Somalia, Nura has endured almost unimaginable hardship. After seeing relatives perish in the nation's vicious civil war, Nura and her family fled to Ethiopia on foot, escaping the desert and finding a refugee camp. They resettled in Texas; today, the Dream Award is helping her work toward a degree in International Studies and a career focused on supporting fellow refugees in need.

Alexandra Joseph
Miami, FL // Saint Leo University // Criminal Justice
Alexandra grew up overcoming domestic abuse, which led her to start living alone and fending for herself as a senior in high school. She has made it her mission to become an advocate for other victims within our society, and be their voice through the hardships and obstacles. Receiving the Dream Award allows Alexandra to continue her criminal justice education and work toward her goals of becoming a judge and pursuing public office. 

Sydney Koirth
Hays, KS // Fort Hays State University // Radiologic Technology
While a junior in high school, Sydney became pregnant. Two weeks after her son's birth, she attended summer classes at a community college. Shortly after, the baby's father left and she became the sole provider. During her senior year, she juggled classes, sports and school clubs, was elected class vice-president, and obtained her license to get a job as a certified medication aide. She is studying radiologic technology in college and dreams to be a radiologist. 

Charles Miller
Chicago, IL // Northwestern University // Organization Behavior 
Undiagnosed dyslexia and dyscalculia delayed his academic aspirations. An Army veteran, Charles returned home and sought help through the VA, becoming addicted to prescription medication. Estranged from family, he was incarcerated a year later, and committed to combatting his addiction and working on himself. Charles relocated to Chicago in 1989, began a family and started a business till the financial crisis of 2008-09, then worked as a commercial driver. He returned to college, graduating with high honors from City Colleges of Chicago in 2018. Today, Charles attends Northwestern's School of Professional Studies, majoring in Organization Behavior. 

Tapiwa Mzumara
Indianapolis, IN // Ivy Tech // Biology
A DACA recipient in a low-income family, Tapiwa's life is challenging. Her mother struggles with chronic illness, so she would often come home from high school band and choir practice to cook dinner before doing homework. The Dream Award will support her as she works toward a biology degree, aiming to go to dental school and open a dental clinic in an undeserved community.

Breece Phipps
Sacramento, CA // University of Southern California // Astronautical Engineering
Inspired by his grandfather's work in the aerospace industry, Breece started his college journey with dreams of becoming an astronaut. But when a series of poor choices forced him out of college and into prison, the hardship provided him time to reflect and reconstruct his future. Now that he's back in school, the Dream Award gives Breece the opportunity to not only carry on his grandfather's legacy, but also rebuild his life. 

Kimberley Rendon
San Antonio, TX // University of Texas // Psychology
At twelve, Kimberley witnessed her father lose all his motor and verbal ability due to Amyotrophic Lateral Sclerosis (ALS). Despite her family's medical and financial struggles, she graduated at the top of her class, while helping set up a nonprofit in her father's memory. The Dream Award will help Kimberley pursue her dream of becoming a speech-language-pathologist, helping others affected by ALS with affordable communication and respiratory therapy, as well as medical resources. 

Jenny Rodriguez
Orange, NJ // American University // Political Science
Jenny's parents, immigrants from Ecuador, didn't have much financially. However, her mom always repeated the same phrase to her: Estudie mucho para sacar una beca. Lo necesitamos. – "study hard so you can get a scholarship. We need it." With the help of the Dream Award, Jenny is able to finish her political science degree at American University, aiming to pursue a career in education policy and help others like her have a chance at a quality education. 

Sergio Rodriguez-Lopez
San Jose, CA // University of Illinois at Urbana-Champaign // Mechanical Engineering
Sergio's academics and athletic skills earned him a scholarship and spot on the swim team at a local college, where he would be the first in his family to earn a degree. But when he learned his father was being deported, he quickly picked up two jobs to help provide for his family. The Dream Award will help Sergio relieve some of the burden, and keep him on track pursuing a Ph.D. in electromagnetism.

Clarissa Rincon
Kansas City, KS // Wichita State University // Biomedical Engineering
Clarissa's family of eight struggled financially when a back injury led to her father losing his job. Her mother had to take on work, and she and her older sister helped care for their younger siblings. Despite working up to 30 hours per week during high school, Clarissa advanced to the International Baccalaureate program. Now, as a first-generation college student, she wants to break the cycle of poverty; she is studying biomedical engineering to improve healthcare in developing countries.

Marry Tha Dar Soe
Saint Paul, MN // Metropolitan State University // Nursing
Born in Burma, Marry's family moved to Thailand to escape civil war. They lived in a refugee camp for eight years, and then moved to the United States. Her parents worked long hours and attending school was difficult. Marry persisted, and is the first in her family to graduate high school and attend college. She speaks four different languages, and the Dream Award will support her as she studies to become a nurse. 

Courtney Wiese
Henning, MN // Concordia College // Health Education
At the age of 12, Courtney was diagnosed with a rare brain disorder called Chiari malformation. Within 24 hours, she underwent brain surgery to save her from paralysis. Fortunately, the surgery improved her quality of life, relieving pain that kept her from being active. Today, Courtney volunteers to help children going through a traumatic injury or situation, and the Dream Award will help her continue as she continues studying to become a health and physical educator. 
[Join us Thursday, May 7 to celebrate the 2020 Dream Award students at our Dreams to Success Day of Giving on Facebook!]